All you have to do is read down through this post until you get to the how-to-enter part and you are good to go for a chance at one of three prizes!
(This was taken last year while Leah's family spent a week at Lake Gillette up on East Highway 20 in Washington)
Our families have the Cabin Fever real bad! And we bet that yours does too! So, we decided it was time to do something that everyone can enjoy and....ohhh yeah...here it comes!
The 1st Prize is:

A $100.00 e-gift Certificate from
Ax Tackle
, 4 handcrafted Fishing Rigs from
WDSTK3 Handcrafted Fishing Lures
, and 1 handcrafted Fishing Rig from
Fish Bones Custom Lures
! Ax Tackle has a large variety of Fishing and Camping Gear and this e-gift certificate can be used for anything in the store! The Fishing Rigs can be used for...well, catching fish of couse! Like this one :)
That is a 15 inch German Brown caught in the Spokane River below the 9 Mile Dam with one of WDSTK3's custom Rigs!
The 2nd Prize is: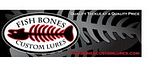 A $50.00 Gift Card to Cabelas, 4 more handcrafted fishing lures from
WDSTK 3
and another Fishing Rig from
Fish Bones!
The 3rd and best prize of all is:
4 handcrafted Fishing Lures from
WDSTK3
, 1 Fishing Lure from
Fish Bones
, and the extremely coveted Coupon Posse' Bumper Sticker! We know, HOT!
one of these lures
and next thing you know, you got your limit!
You already know how easy it is to get in on one of our Super Awesome Giveaways, but we will tell you again anyway!
1. First and mandatory entry!
Leave a comment here at The Coupon Posse'!
Tell us about your favorite fishing hole or camping spot!
2.
Like The Coupon Posse on Facebook
, subscribe to
our daily email
and follow us on
Twitter
, or do all of the above! Just leave us a comment letting us know!
3.
Like WDSTK3 Handcrafted Fishing Lures on Facebook!
Get all the need-to-know Fishing Info for Washington, Oregon, Idaho and California!
4. Share the giveaway with your Friends on Facebook and Twitter or Post it on your Blog! Include a link in your comment!
Each entry requires a comment left here, email and Facebook entries are not counted
! All comments also require a way to contact you,
so make sure that your email address is included in this format: "the coupon posse at yahoo dot com".
This format will help prevent spammers from getting your email address, but will still insure that you get your winning notification because we not only announce that you are the winner, we email you too! Entries without this vital information are, regretfully, discarded and we really don't want to do that!
This super awesome Coupon Posse' giveaway starts now and ends on Friday, April 22nd at 11:59 PM. A winner will be chosen and announced on Saturday, April 23rd, with enough time to get your prize to you for the 2011 Opening Day for fishing! Good luck everyone!