Sunday Royce L. and myself loaded the wagon and headed for Deer Lake, Stevens County, WA for a bit of early fishing before the rest of
The Fishing Posse
and
The Coupon Posse
arrived for a family outing. We launched from the SE corner of the lake and pointed the boat toward the NW part of the lake while getting rigged for some trolling. Got my set in the water and started to feed out line to my usual starting point of 70' on my line counter reel. I had let out about 60' when I got a big pull on the line. 'What the...? The water is 60' deep here. How could I snag on the bottom?' It wasn't a bottom hook...I had a fish on! And here it is:
5# of 21 1/2" Bow! Our usual catch from that lake is in the 1#/15" range.
I was armed with my 7'
ML Ugly Stick
I received as a Christmas gift two years ago, a
5500LC Abu Garcia
obtained from
AX Tackle
(another Christmas gift this past year) reel wound with
Cabela's
10#
Natural Clear
monofilament and these built by
WDSTK3 Handcrafted Lures:
Variously called
Lake Trolls, Flashers or Pop-Gear
( I opt for
Pop-Gear
) it is built with 2' of
30# test of AFW Bleeding Leader Wire
, a plastic trolling rudder, one #3 hammered nickle Willowleaf spinner and four # 3 1/2 Willowleaf spinners, 8mm and 6mm fire polished glass beads and 6/0 seed beads for the spinner bearings and swivel snaps on each end. I attached a 2oz cannon ball sinker to the rudder to get some depth as the fish were hanging out in the 40' range over 60'-70' of water. Next in-line was the top one of these:
I built the spinner with 8mm, 6mm, and 4mm Czech Firepolish glass beads on a .031 SS wire shaft. The beads are of a pinkish-bluish and transparent hue (sassafras) in 8mm, 6mm and 4mm size with a rondelle spacer bead in the middle trailing a streamer fly by Ron Conti of Calgary, AB and with blades I acquired from Matt Peterson of
Fish Bones Custom Lures
.
The unfortunate part of all this is...that is the only bite we got all morning and in the process we ended up losing two whole sets by noon due to bottom snags that just wouldn't come loose and we had to break the lines. That makes three I have lost in the last month. But, I personally know someone that makes them and it takes only a few minutes to tool-up and crank out some new sets:)
Who said ya can't catch Trout with blue/pink lures? Well, it seems that some folks are what I call...'color-bound'. If it isn't reds or greens or reds and greens they won't 'bite'. They just don't know what they are missing!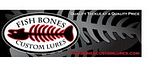 ">
">