The News Tribune Fishing Report Posted By Jeffrey P. Mayor Mar.21,2012
The steelhead fishing remains good on the Olympic Peninsula, while the action on the Cowlitz River is heating up. Salmon anglers will want to head for the Strait of Juan de Fuca. Meanwhile, a number of year-round lakes have been planted with trout in the past week or so.
RIVERS
Columbia: The abundance of spring chinook is increasing in the lower river, but catch rates were poor last weekend. In the Portland-to-Longview area, boat anglers averaged 0.09 spring chinook per boat, while boat anglers in the estuary averaged 0.07 spring chinook caught per boat. Sturgeon fishing has been slow.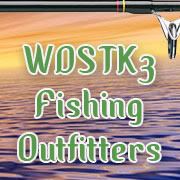 Cowlitz: Fishing has been off-and-on but is showing signs of improvement. Boaters putting in at Blue Creek are doing well for steelhead and getting a few spring chinook, said Marshall Borsom at Fish Country. They are running divers with coon shrimp, side-drifting eggs or pulling plugs with herring or tuna bellies. Bank anglers are getting a few steelhead; they are using everything from sand shrimp, corky and yarn, jig and bobber, spoons and nightcrawlers.
Kalama: Steelhead fishing has been fair to good.
Olympic Coast: The steelhead fishing remains good to very good, based on reports from Jim Kerr of Rain Coast Guides. River flows were rising Tuesday, which could bring in some fresh fish.
Skookumchuck: Online reports indicate people are catching steelhead fairly consistently. Corkies and yarn in reds and pinks seem to be the most effective setup.
Yakima: The fishing has been mixed, as anglers deal with high, cold water. Flows were on their way back down early this week. Be prepared to fish with nymphs and dry flies, said a staffer at Red's Fly Shop.
LAKES
Chelan: Anglers are having success catching lake trout while trolling deep above the Chelan Yacht Club. Fish from the 240-foot contour to 340-foot contour for best success, said Anton Jones of Darrell and Dad's Family Guide Service.
Harts: The lake was planted a week ago with 4,250 rainbow trout.
Riffe: Fishing has been very good to excellent for coho. Fish near Mossyrock Dam with shrimp and worms under a bobber about five feet down. The fish are measuring 12-16 inches long, Borsom said.
Spencer: The good fishing at this lake should continue after it was planted with 4,005 rainbow trout.
St. Clair: The lake was stocked last week with 6,000 rainbow trout.
SALT WATER
Fly fishing: There are some reports of chum fry moving out of streams feeding into Case and Carr inlets, and that should attract the searun cutthroat trout, said Blake Merwin at Gig Harbor Fly Shop. Remember, all sea-run cutthroat must be released. Resident coho also are reappearing along area beaches.
North Sound: The fishing has not been great, if Saturday's Everett Blackmouth Derby is any indication. The derby had 82 boats, and just 34 fish were weighed in. Brent Pierce won the event's $3,000 first prize with a 12.06-pound salmon.
Razor clam dig: Long Beach, Twin Harbors, Mocrocks and Copalis will be open for digging Saturday, while Long Beach, Twin Harbors and Mocrocks will be open Sunday. Low tide is at 8:25 a.m. Saturday and 8:59 a.m. Sunday.
South Sound: Salmon fishing has been very slow.
Strait of Juan de Fuca: This is the spot for salmon fishing right now. State sampling over the weekend showed 16 anglers with 15 chinook at Olson's Resort and 23 anglers with nine chinook at the Port Angeles boat ramp.
Jeffrey P. Mayor: 253-597-8640 jeff.mayor@thenewstribune.com
Read more here: http://www.thenewstribune.com/2012/03/21/2075933/fishing-report.html#storylink=cpy