Southern Oregon Fishing Report Posted By Steven Theel
Southern Oregon Fishing Report 3/30
I always thought the old saying was March comes in like a lion and goes out like a lamb? If this is mother natures version of a lamb I'd sure hate to run into it in a field. Like most of my reports this month, we're currently experiencing a major winter spring storm. Flows throughout southern Oregon are heading way up, and will be cresting at their highest point all year.
Guide Brady Rogers found this nice hen
on the upper Rogue Thursday.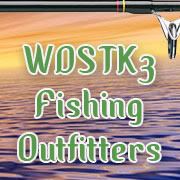 Rogue - About the only area to currently fish is the upper Rogue above the Hwy 62 bridge. Last weekend saw good fishing for winter steelhead, but it tapered off during the week. Outflows from Lost Creek Dam were on their way up yesterday and peaked over 4600cfs this morning. Luckily they are on the drop, and are back down to 3000cfs as I write this. If we're lucky they'll stabilize and hold in the 2500 to 3000 range. If they do look for fishing to be alright. All the normal steelhead tactics will produce including pulling plugs, side drifting, throwing spoons, and bobber fishing. Below Big Butte Creek should be fishable by Sunday or Monday.
Update 11:00pm - The Army Corps of Engineers have crashed the outflows from Lost Creek Dam. They are currently sitting at 1700cfs and dropping. That makes the float from the hatchery to Casey State Park very fishable, but there's no telling what it will do to the bite. Be very cautious in this section, especially if you're wading. Flows could shoot back up in the next couple of days as the flows downstream drop, and the Corps match the inflows again.
The rest of the Rogue looks to be blown out tell at least the middle of the week. Flows at Dodge Bridge were peaking just above the Action Stage at over 15000 cfs. The rest of the river is still on the rise. When things do drop back into shape winter steelhead fishing will be good in the Grants Pass area, with the possibility of a springer or two showing up. The Lower Rogue will hopefully see the first good catches of springers.
Applegate - Anglers are reminded that the Applegate River closes tomorrow night. Flows are going to be extremely high, but the very upper stretch may be a possibility for wetting a line on the last day of the season. Catches had been very good before it became blown out, so there's a chance to find a steelhead or two in the high water. Fly fishing will be difficult, but drift fishing and throwing spoons should be doable.
South Umpqua - Fishing has been slow this last week, and it will be unfishable for awhile now. Flows will be peaking just over 15000cfs at Tiller, which will make it be near a week to be driftable.
Tight Lines....