The Spokesman-Review Fishing Report Posted By Alan Liere Mar. 23, 2012
Fly fishing
The Coeur d'Alene River has fished well recently on the lower end, said Pat Way at Northwest Outfitters in Coeur d'Alene. Cold weather is expected to keep the water level manageable through the weekend.
The Grande Ronde and Clearwater are both running too high for good fly fishing, but the South Fork Clearwater can be good.
Amber Lake is good. A lot of Amber rainbow are 16 inches and better.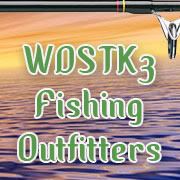 A large number of skwala stoneflies have been evident on the Yakima River in recent days, and the water around Ellensburg has had some good dry-fly fishing.
Steelhead and salmon
The Grande Ronde was at a roaring 5,300 cfs at midweek, so steelhead fishing was nearly impossible. A few positive reports came in from the North Fork Clearwater near Peck.
With the recent opening on the Wenatchee, Methow and Icicle rivers, steelhead anglers are reminded that they must retain any legal hatchery steelhead they catch until they reach their daily limit of two fish. At that point, they must stop fishing for steelhead.
Spring chinook abundance is increasing in the lower Columbia, but fishing so far is poor. The Wind River and Drano Lake are high and turbid and the fish counts are low.
The Similkameen and Okanogan rivers remain open for steelhead fishing, although sections of the Okanogan River around the mouth of Omak and Tonasket creeks closed to all fishing March 16.
Lake Coeur d'Alene chinook are moving up in the water column. March and April are when you can catch them in the top 30 feet, particularly on the south end. Fish can be caught throughout the lake but will be in better numbers from Rockford to Harrison.
Trout and kokanee
Sprague Lake anglers who brave the considerable wind are catching big trout by trolling close to shore in about 8 feet of water. Sprague Lake resorts are not open, but launching is available at the public access.
Downs Lake got a 5,000-fish infusion of rainbow this week, some of them holdovers. Bass fishing is poor.
Burke Lake in Grant County is providing excellent fishing for 12- to 14-inch rainbow. Bank fishing is available on the east and west ends where drive-up access is available. There is a wheelchair-accessible cement path and a dock on the southwest shore. Other desert lakes such as Martha and Upper Caliche are also fair to good, and a lot of really big rainbow have been taken from Potholes Reservoir.
Hog Canyon has been fair to good for rainbow, many more than 14 inches. The north end of the lake has been best
Fourth of July still has a lot of big fish, but it isn't seeing many anglers.
Brown trout fishing at Liberty has slowed down, but anglers in boats are still marking a lot of fish.
Lake Roosevelt water levels are expected to drop to 1,266 feet by today. At that level, the following launches are out of commission: China Bend, Evans, Hawk Creek, Marcus Island, Napoleon Bridge, North Gorge, French Rock, Daisy, Crescent Bay and Snag Cove. The Jones Bay minimum is 1,266. Trout fishing on Roosevelt remains poor, though enough 4- to 5-pounders are caught to keep anglers going back.
Rufus Woods has been inconsistent, depending on water flow. Fishing is best on days with a lot of water moving.
This is a good time for big Banks Lake rainbow. Anglers are taking them in shallow water throughout the lake from boat, dock and shore.
Spiny ray
Symptoms of cabin fever are being neutralized at Upper Goose Lake, one of the seep lakes below O'Sullivan Dam in Grant County. It is producing some nice walleye, and even when they are not biting, the trout usually are. This 110-acre lake is surrounded by basalt cliffs, so it is a good place to fish out of the spring wind. The lake also has perch and bass.
Lake Roosevelt walleye anglers report good fishing for small fish in deep (35 to 50 feet) water. One party of three anglers reported catching some big walleye from shore near Hawk Creek.
Water temperatures at Banks Lake are nearing 40 degrees in some areas, with water levels approaching full pool.
Walleye are being taken around Barker Flats in depths ranging from 30 to 50 feet, but they are spreading out and may be hard to find. Smallmouth are also being taken in midlake areas (Steamboat, Barker Canyon, Poplars) on jigs and grubs.
Newman Lake still had a lot of ice at midweek, though the area around the public access is open. Eloika Lake ice fishing is done for the year, but ice remains. Silver Lake is wide open, but it's still a little early for a bass bite. Tiger musky should be on the prowl.
Shoreline bait fishermen are landing some big pike in Lake Coeur d'Alene bays. Wolf Lodge and Rockford bays have been good, and Cougar and Mica bays should improve with the rising water. For more action but smaller fish, Anderson and Cave lakes are providing action for 3- to 8-pound pike.
Other Coeur d'Alene-area lakes such as Fernan and Kelso have opened up. Panfishing is slow but will improve with a few warm days. Walleye angling is excellent in The Dalles and John Day Pools.
Contact Alan Liere at spokesmanliere@yahoo.com