The Spokesman-Review Fishing Report Posted By Alan Liere Mar. 30, 2012
Fly fishing
Columbia River trout fishing around Northport is getting good and now is the time to catch the larger fish. Rainbow weighing from 3 to 10 pounds are staging to spawn on the long gravel bars, and some big cutthroat are also available. Try swinging flies along the gravel bars and the seams off points.
However, we aware that two stretches of the Columbia near Northport are closed to fishing from March 1-May 25 to protect spawning rainbows during this vulnerable time. See
Rich Landers' Outdoors Blog
for details on the closures and a graphic showing the boundaries. The rule for these areas in on page 96 of the 2011-2012 fishing regulations.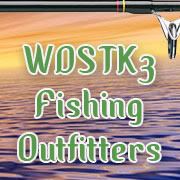 Area rivers are coming up again and aren't too fishable for the fly angler. The Yakima River has been all over the place. Fly fishing is tough. The rainy, cold weather is also affecting the lakes. Amber and Coffeepot are probably your best bets at this time.
Conditions on the Bitterroot in Montana look good for topwater action. The water is up but likely not enough to dramatically impact skwala prospects
The upper section of the Missouri below the dam down to Craig has the most consistent fishing, but the lower river is giving up some big trout. Fish light-colored streamers. If the weather is good, you'll be fishing in a crowd.
Steelhead and salmon
The Wenatchee and Methow rivers are closed to steelhead fishing. Still open through Saturday are portions of the Okanogan and Similkameen rivers.
Lake Coeur d'Alene chinook are in the top 30 feet of water and you don't need a downrigger to put one in the boat. Deep diving Husky Jerks and Minnow Raps in sizes 9, 10 and 11 in Fire Tiger or Hot Tiger are the go-to plugs.
Trout and kokanee
Hog Canyon Lake should provide good fishing right up to the final day of angling on Saturday, and you don't need to go too far north of the boat launch. Anglers throwing small Blue Fox spinners have done better than bait fishermen. Fourth of July, Williams and Hatch are also closed after Saturday.
Rock Lake is booting out beautiful brown trout and a few rainbow to anglers throwing swim baits. Bank fishermen at the launch have been numerous, but the fishing has been better than the catching.
Coffeepot Lake was good to two friends fishing small Hotshots with barbless hooks last weekend. They said the largest was 22 inches. Liberty Lake browns are still biting, though lightly for bait anglers. Spoons and spinners are also taking fish.
The Tucannon River impoundments, on WDFW's Wooten Wildlife Area, have been producing nice rainbow catches since opening March 1.
Stocked trout 12-14 inches on Roses Lake in Chelan County are plentiful, and Roses also has some big perch.
Priest Lake jiggers are finding plenty of mackinaw off the east side of Bartoo Island in the 180-190-foot range.
Dozens of lakes open to fishing Sunday, most in Adams and Grant counties of the Columbia Basin. Many of these waters are within the Columbia National Wildlife Refuge, including the Pillar-Widgeon chain of lakes. These small lakes should be fair to good on the opener. North and South Teal lakes, among the "Seep Lakes" south of Potholes Reservoir and north of Othello, will be fishable on this opener. Expect good catches of rainbows averaging 12 inches. Upper and Lower Hampton lakes, north of Othello will be fair at best, WDFW biologist Chad Jackson said.
In the north end of Grant County near Coulee City, Dry Falls Lake opens Sunday and usually fishes well. This is a selective-gear-rule fishery with an internal-combustion-motor prohibition and a one fish daily catch limit. Most of the catch will be yearling trout 12-14 inches, but there are larger carryovers. Dry Falls also has brown and tiger trout. Two Okanogan County lakes open Sunday – Spectacle Lake and Washburn Island Pond. Spectacle is usually good for yearling rainbows that run 11-12 inches, plus some brown trout. Bluegill and largemouth bass are the predominant species at Washburn Island Pond.
Other Okanogan County rainbow trout fisheries shift to catch-and-release only fishing on Sunday. These include Campbell, Cougar, Davis, Green and Lower Green, and Rat lakes.
Spiny ray
Saturday is the last day until May 26 to fish for walleye on the Spokane arm of Lake Roosevelt, but anglers dropping jigs and blades are catching some decent fish around Two Rivers and elsewhere. Casino Flats is good.
Rufus Woods walleye fishing was good last weekend with nice weather and perfect water flows on Sunday. The spawn has not begun.
Snake River walleye in the vicinity of Lyons Ferry seem to be running larger than those on Lake Roosevelt. Bottom bouncers and jigs around the dunes below Lower Granite Dam have also produced some large fish.
The I-82 ponds near Yakima often pay off for early-season panfish anglers. The bite seems to be later than last year's, but a few crappie, perch and bass are reported.
The Columbia River near Northport usually produces some good walleye fishing in the spring from the Canada border down a dozen miles or so. A few 'eyes were caught last weekend, but it may be a little early for great fishing.
Eloika Lake still has a lot of ice from Jerry's Landing north, but there is a strip of open water and the public access on the ice-free south end is useable.
A few Liberty Lake crappie have shown, but the bite usually heats up once the weather does.
In the Coeur d'Alene area, Fernan Lake anglers are taking panfish and catfish as well as planter-size trout. Crappie, which are usually the first to appear after ice-off have not yet made an appearance. Hauser and Cocolalla lakes are also good for panfish and trout.
Herring or smelt, either under a bobber or sitting on bottom, are taking some nice pike from Lake Coeur d'Alene bays, including a 28½-pounder. Water is up. The Chain Lakes are producing pike and crappie.
Other species
A razor-clam dig is scheduled for April 7-9 at coastal beaches if marine toxin tests are favorable. Tentative opening dates and morning low tides are: April 7 (7:36 a.m., -1.2 ft.): Long Beach, Twin Harbors, Mocrocks, Kalaloch; April 8, (8:23 a.m., -1.5 ft.): Long Beach, Twin Harbors, Mocrocks, Kalaloch; April 9 (9:11 a.m., -1.5 ft.): Long Beach, Twin Harbors, Kalaloch.
Tip of the week
Lake Roosevelt water is dropping rapidly so if you aren't familiar with the location of the river channel, go slowly. Lower units are expensive.
Overheard
A few large kokanee have already sweetened trollers' live wells on Priest Lake, some in excess of 20 inches.
Heads up
There are two upcoming fishing tournaments on Lake Coeur d'Alene. The JH Covey Spring Chinook Derby is April 14-15, and the annual pike tournament is scheduled for April 28-29. For details, call Fins and Feathers in Coeur d'Alene (208) 667-9304.
• Chinook fishing on the lower Columbia mainstem below Bonneville Dam has been slow. Thursday fishery managers from Washington and Oregon will decide whether to extend the season beyond April 6. Their decision will be reported on the WDFW's website and on the department's Fishing Hotline (360-902-2500).
• New Washington hunting/fishing licenses are needed after Saturday. Licenses and permits are available online (https://fishhunt.dfw. wa.gov/), by phone (866-246-9453) and from retail license dealers.