Fishin'Magician Weekly Reports
I have already had some great fishing this spring. You will read about my trip to
Northport later on, but I also wanted to mention a couple of other trips I have made to see
what is available to anglers in our region. Spring is late again this year and most all of
my early spring fishing was done with snow coming down. Not that I didn't get some
sun breaks, too. There is more great fishing ahead of us and I will touch on some of the
prospects, but first let me share my experiences with walleye fishing on Lake Roosevelt
and fly fishing on the Yakima River.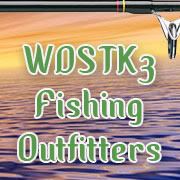 Lake Roosevelt
I had a chance to take an early season walleye trip to Lake Roosevelt. I
traveled to Two Rivers Marina to meet Rick Rovegno. We had talked over the winter
about an early season trip to this area, and I was very much looking forward to getting out
on the water with him, to see what the walleye fishing would be like up here. If there
was a decent bite at this time, it would only get better later on.
We were breaking a thin layer of ice as we left the slip in the marina at Two
Rivers. Rick Rovegno, of Big Wally's Guide Service, assured me that the ice layer
wasn't as thick as the day before and we could expect temperatures in the 50s. He and
his son Hayden had a good trip the day before and although I thought the conditions were
more like winter than spring, he laughed and said things were shaping up for a great day
of walleye fishing on the main lake and up the Spokane River.
Rick Rovegno with one of the many walleye we caught on Roosevelt
If the name Big Wally's sounds familiar, it is for good reason. Gordon and Marge
Steinmetz had owned and operated the Big Wally's gas station, store and restaurant in
Coulee City for years. Gordon was a tournament walleye angler and guide. He founded
the Big Wally's Spring Classic Walleye Tournament that takes place in May every year
on Banks Lake. The store was sold a couple of years ago and Gordon retired from the
guide business. He passed the guide operation on to his nephew Rick Rovegno to
continue the tradition of offering an excellent guide service on the many walleye rich
waters of Central Washington. Rovegno has been a tournament walleye angler for over
ten years and has now been guiding for over five. He and I had been talking on the phone
since last fall. At the sports show in Puyallup we set this date for the trip.
We didn't have to run far to find one of his favorite spots to catch walleye this
time of year. Running out of the mouth of the Spokane River, where the Two Rivers
Marina sets, there is a ridge that he likes to check for fish. This time of year the fish are
deep, and we were into walleye right away, at close to 50 feet deep. Rovegno set us up
with jigs. These were 3/8th ounce glo jigs in chanteuse with a red eye. The jigs that
worked best had no skirt, and he would thread a piece of nightcrawler on the hook,
leaving just an inch or two trailing. He had a nifty tool to zap the jigs with light to make
them ultra bright. It is made by Rapala and looks like a hard case for eye glasses. Inside
are a series of LED lights. He closed the lid around the rig and hit a button for a few
seconds and the result is a jig that will really stand out in the darkness at 50 feet deep.
We would either "dead stick" these jigs, leaving the rod in the holder and let them
drag across the bottom, or would give them just a slight action with the rod in our hand.
This time of year with the chilly water temperatures a walleye isn't likely to chase down
an active bait. Smaller bait, presented slowly is more effective. Rovegno tried to keep
our speed close to just a half mile an hour.
This ridge produced some fish for us, but there was a spot up the Spokane River
that had really paid off for him and his son the day before. We reeled up and ran up
under the bridge over the Spokane River and maybe about a half mile up to where he had
found hungry walleye. We used the same tactics, but found fish anywhere from about 35
to 45 feet in this area. Looking at the exposed shoreline I could see that there were a lot
of gentle humps carved out by the river current and the walleye were moving around this
structure. The same jigs worked just fine here, too, and we had some good flurries of
action where we would put two or three fish in the boat very quickly and then hunt
around for another group of fish looking for lunch.
We did run down lake about four miles to try a flat. The wind had come up on the
main lake and Rovegno put out a wind sock to try to keep our drift within that five mile
per hour speed. I missed a good fish and Hayden landed one in this area, but we soon
decided to head back up to the ridge we first fished, and get out of the wind. It was a
good choice. Hayden brought a nice fish on board soon after we arrived, and when Rick
and I landed a double we decided to call it a day. We had left the marina at about 9 a.m.
and quit at 2:30. There were 17 walleye in the live well and they ranged from 12 to 17
inches. Not a bad day of fishing for walleye anytime of year.
Rovegno sure knew where to find fish on Lake Roosevelt and I would suggest
that if you would like to learn more about the fishing here or even book a trip with Rick
to give him a call or shoot him an e-mail. His phone number is 509-954-4570, and his email
address is dikntam@comcast.net.
Yakima River
I had scheduled with Johnny Boitano, of the Troutwater Fly Shop and Guide
Service in Ellensburg. The forecast was for wet weather and even worse, high winds.
Boitano assured me that there were areas that we could avoid the wind. He and his
brother Jason and I jumped into one drift boat and Ted Truglio, TJ and Devon Zanoli
hopped into another to join us on the float.
Jason Boitano with a dandy early season rainbow on the Yakima River
To our surprise the day had broken mostly clear and sunny, and the "W" (you
don't say wind out loud), wasn't a factor at all. Johnny Boitano took the oars while Jason
took the position in the back end of the boat. These guys knew every pocket and eddy
that held fish, and while I missed fish after fish, Jason landed a bunch of trout. The first
fish he landed was a cutthroat of at least 15 inches and he caught a couple of big
whitefish and rainbow that ranged in size from 13 to 16 inches.
Johnny was busy. When he wasn't rowing he was re-rigging my set up. He
changed depths constantly and just as often replaced the flies. He experimented with a
variety of Skwala Stones and droppers that varied from small nymphs to San Juan Worms
of their own design. We caught fish on the stones, including a new one that Jason had
created, and the San Juan Worms really worked well, too.
I had a Skwala Stone with a San Juan Worm in my line, below a large indicator
when we started down a long straight run. We hadn't gone very far down this stretch
when my indicator shot out of sight. Johnny and Jason were yelling and I managed to set
the hook this time. It only took a couple of seconds to realize that I had hooked a
steelhead! I was using a 5 weight rod with a 5-pound tippet and this fish was having its
way with me. While my knees were knocking Boitano first anchored and then pulled up
and chased the fish further down stream. Somehow I managed to get the fish close
enough to the boat so Johnny was able to slide the knotless net under it. We all
celebrated after releasing the wild fish that had made its way over Rosa Dam into this
area of the Yakima.
We continued down stream, pushing the boat over a log jam at one point and
caught many more rainbow, even one that gave Jason a real tussle and turned out to be an
18-incher. This day was just further proof that the early spring fishing on the Yakima can
be spectacular.
Okanogan River
Conditions were tough on the Okanogan, but Jerrod Gibbons came through!
I need to mention that I also made a trip down the Okanogan River right before
the trip on the Yakima River. Jerrod Gibbons, of Okanogan Valley Guide Service, and I
had been trying to get out on the Okanogan River after the ice came off. Although the
forecast that day was for some wet weather we decided to go for it. His father Tom
joined us and we put the boat in at the rough launch above the mouth and headed up
stream. It took us no time at all to get to the Trestle Hole, about a five mile run in the jet
sled. Navigating the shallow Okanogan in the sled was easy. We worked our bobbers
and jigs through the hole without even a sniff, so we kept making our way up the river
Before I knew it we had run up the Okanogan as far as what is known as
Rattlesnake, which is a good distance from the launch. Rattlesnake is positioned below a
bend in the river and there are a few boulders scattered off the shore that hold steelhead.
We started at the top of the hole when it really started snowing seriously. We had a
couple of suspicious looking bumps, but nothing that would take the bobber down.
Gibbons backed the boat down through the hole and he hooked but lost a fish in
the lower section. I had been allowing my bobber to slide way down below the boat, and
when it was at the extreme end of the drift my bobber disappeared. I don't know how but
I set the hook and worked a small hatchery hen up to the net. We made a couple more
casts but decided that the weather had put the fish off the bite, and it was snowing
fiercely by now.
The run back to the launch was brutal. We took turns running the boat. Gibbons
would go as long as he could before he just couldn't see anymore due the stinging snow
in his eyes. I would take over and run until he couldn't see my eyes through my glasses,
as they were coated with snow and ice. We finally made it back to launch and celebrated
at least not getting skunked in such adverse conditions. Admitting that we were sure
some crazy steelhead anglers, we hopped into our warming trucks and headed home.
I next traveled all the way up north on the Columbia River to Northport. Rollie
Schmitten joined me on this adventure, which included walleye and rainbow trout
fishing. The snow followed us all the way.
Super Walleye and Trout Fishing
Found at Northport Washington
As you know, I like to explore Eastern Washington and find new places to fish.
Earlier this year I was able to visit Northport, Washington. I met some people from the
area at the Pasco Sportsmen's Show and was invited to come up and learn what the area
offered. What they told me at the show got me excited. It sounded like a great place to
visit to do some fishing and shoot video for a new "Hit the Water with the
FishingMagician TV Show". I was very impressed about the fishing that is available on
the extreme upper Columbia River in Washington State.
I was very fortunate to meet Art and Nina Grobben, owners of Lazy Daze
Retreats (lazy-daze-retreats.com). They have a lodge right on the river and have other
properties in Northport. They not only put up my fishing partner Rollie Schmitten and I,
they arranged two fishing trips. One was for walleye and the other for trout.
On the first day, we were met at the lodge by Brian Day, of Day Fishing, who
guides for walleye in this part of the Columbia. It was very early in the season to fish for
walleye, due to cool water temperatures, but he knew where to look for hungry fish. It
was cold and snowing when we started our day, in sight of the Canadian Border. We got
some sun breaks later on, and that seemed to help. The fish started biting later in the day.
He showed us some terrific walleye water, which was typically in large bays. The
currents are something else on the Columbia in this area. It is basically free flowing, like
it was before any dams were built. The bays were actually large eddies. This was where
the walleye would hang out, looking for bait fish. This time of year the best way to get
fish was with jigs. We fished a variety of colors with a variety of skirts, and all were
tipped with a piece of worm.
In one bay we got a few walleye, but also hooked and released a couple of small
sturgeon. The jigs were ¼ to ½ ounce, as we were fishing from 25 feet to 80 feet deep.
We actually had our best action late in the day bouncing ½-ounce jigs in 80 feet of water.
Day introduced us to some of his favorite holes, and showed us an area that I want to get
back to this summer. It is called the Little Dalles and is the narrowest gap in the
Columbia I have ever seen. When the spring runoff hits the standing waves get so big
here that it is impossible to navigate. The heavy current also makes it impassable for the
walleye. They stack up in incredible numbers below the Little Dalles and Brian Day
catches them in amazing numbers at that time.
We did well considering we were fishing in mid March. We finished the day with
eight nice walleye in the live well. That's a pretty good catch for a slow fishing time on
the upper Columbia I thought. Brian Day not only knows his stuff when it comes to
walleye fishing, he's a great guy to be with for a day on the water. If you would like to
learn more about fishing for walleye in the Northport area, you can give him a call at
509-732-6658. His e-mail address is bdayn@aol.com.
In the spring of every year, the largest trout of the season are taken on this stretch
of the Columbia. Most are rainbow trout, and they can weigh up to ten pounds. In
addition to the rainbow there are Kamloops and cutthroat in the river here, too. All of
these fish are in the early stages of gathering to spawn at this time and can be taken on
flies. Justin Hotchkiss, of Far North Charters, was eager to show us how he fishes for big
trout. This is his specialty. Trout fishing is really quite good any time of the year here,
but if you want really big fish, early spring is the best time to get them.
Hotchkiss met us at the dock at the Lazy Daze Retreats lodge and we didn't have
to run far to find the kind of water he likes to fish for big trout. He likes edges of eddies,
and current seams along bars. This time of year the water is down and we could see the
kind of bottom that the fish were looking for. Some of the bars were huge and were
made up of the kind of gravel that the trout use for spawning. Hotchkiss said that he had
been spotting reds already.
We were casting 6- to 8-weight rods with heavy sink tips to get our streamer flies
and large stone flies right on the bottom and keep them there. We were swinging these
flies in the seams and edges, but still in fairly fast moving water. I changed up to a sink
tip that was heavier and longer, and ended up being 22 feet long and 300 grains.
Once again we started our day in snow, we got some good sun breaks, and
Hotchkiss knew how to approach the water. He has a big sled with a jet on the back end
and he could run all over the river to find fishable water. He has an electric motor on the
bow so he would really control the drift with the current and keep the boat exactly where
he wanted it be at all times.
Schmitten hooked and released a very nice rainbow in the first seam we fished.
We thought that we were going to be having a multiple fish day, but it wasn't so. Not
that we didn't have the chances. Both Rollie and I hooked other big fish, but didn't get
them to the boat. We both hooked and released some huge whitefish. These guys will
move in when the rainbow start spawning and they were big enough that we thought we
were onto big trout at first. I was particularly slow on the draw on this trip, and I know
that I could have seen some big trout on the end of my line if I would have been quicker.
Rollie and I plan to come back and give this big trout fishery a try again in the
early spring. Before we do we are gong to arrange a trip with Hotchkiss on the Kettle
River. This is another one he knows well. I have fished the Kettle and have hooked
some very large trout, but have always fished by wading. We plan to float the Kettle
with Hotchkiss and get to some water that I haven't seen before. I can't wait. If you
want to learn more about the trout fishing on the very upper Columbia and the other
rivers that Hotchkiss fishes, like the Kettle, you can reach him by logging onto his web
site at www.farnorthcharters.com.
Something that made the trip to Northport very special was the lodge that we
stayed in. It was unlike anything I had ever stayed in before. It has to be seen to be
believed. The interior was amazing and the outside spectacular. We had large flock of
wild turkeys off the deck every morning, and the view—wow. Wildlife was everywhere.
We had eagles flying overhead, small herds of whitetail deer following us from shore as
we made our drifts. It is no surprise that Lazy Daze Retreats serves as many hunters as
anglers, and many come just to explore the beautiful country side.
I like exploring new country and new water. What Northport had to offer was
beyond my expectations. I will be going back, that's for sure. I only had a couple of
days, and I wish I had a week. When you visit make sure you make the time to see it all.
Rufus Woods Reservoir
Rufus Woods Reservoir is something I have talked about in past E-Letters, but I
felt it was important to touch on it again due to the derby planned for May. I reviewed
some of the proven techniques used to catch triploids, and I do mention some that may be
new to anglers.
Rufus Woods Reservoir, and the fishing for triploid rainbow trout there, continues
to be a big draw for anglers. Last summer it was a fishing party as hordes of anglers
flocked to the reservoir to take advantage of the release of thousands of triploids from the
net pens. This spring there is a whole new reason to fish Rufus Woods. It's the chance
to win some huge prizes, including my Jetcraft boat!
Dave and Nancine Lorz at Nel's Café and Grizzly's Bait and Tackle in Bridgeport
came up with the idea last fall, and they soon had the support of the US Corps of
Engineers, Washington State Parks and the Colville Confederated Tribes. The first
annual "Trippin with the Triploids" is set to be held on Saturday, May 12th. They have
been busy getting their prizes together, creating a web site for the derby
(bridgeportwa.com) and writing the rules and registration forms. Everything is coming
together for what promises to be a great time for anglers. You can learn all you need to
know about the rules and even get a registration form for the derby by logging onto the
web site.
This year the triploids aren't as plentiful as last summer. The high water that
forced the release of all those fish also swept many of them over Chief Joseph Dam and
on down the Columbia. There are still plenty of them in Rufus Woods, and this May it
will be particularly important to know how to catch them. I have described how to fish
for triploids in early features, but I have learned a couple of new tricks that just may help
you catch the big, or even the ultimate prize of my Jetcraft boat with a tagged fish.
One of the tricks that have been used for the past couple of years is the use of the
Wiggle Fin Action Disc. This small, clear plastic cup slides on your line and is placed
right on the top of the lure or fly you're using. This is particularly effective when fished
with Wooly Bugger style flies. It really makes the marabou feathers dance. I should note
that when using Wooly Bugger or streamer style flies that they should have a fair amount
of Crystal Flash or Flashabou material incorporated into the pattern. Flies that have these
attractive threads definitely work better than flies tied without them.
Here's a proven set up for catching triploids with the Wiggle Fin Action Disc and
fly combo:
Many use a long and flexible rod, often nine or ten feet long. Having a sensitive
rod is a benefit. You will be able to see the vibration of the Wiggle Fin working and will
help you know if you have picked up a weed. When the rod tip stopped jiggling, it's time
to check your hook. This will save you from wasting time fishing with a fouled hook.
You can use a spinning reel or a bait caster for trolling.
The line test on your main line should be at least 12 pound test. Remember, there
are some whopper triploids in Rufus Woods. The important thing is to use a
fluorocarbon leader to your fly or lure. Sometimes I put a small trout dodger ahead of the
leader to the fly. This just adds some extra attraction and action on the lure. Other times
I just run a straight line to the fly or lure. We are usually running four rods. I will put
two rods on the downriggers and I will run two others off the back. I will sometimes
have four different set ups out to start with. I will have a dodger and fly with a Wiggle
Fin on one, a dodger and Rapala on the other, on another I will have a series of split shot
ahead of the fly with a Wiggle Fin and still another with a different type of fly or lure. I
will either switch to new flies or lure colors or double up on what seems to be working. I
will vary my boat speed but will be running from 1.2 to 1.7 mph. Depending on the
shoreline I will troll these rigs from 12 to 20 feet. Note: I use single barbless hooks on
all of my lures and flies, and no bait.
Another method that my friends and I have been using for a few years that is now
becoming very popular is casting jigs. After the release of all of those triploids last
summer, a lot of anglers found that just casting jigs can be a very effective way to catch
these aggressive fish. The jigs are the same ones that I use to catch steelhead, and
depending on the current, the jigs are from ¼- and 1/8th once, and even as light as 1/16th
and 1/32nd ounce. I first started using these jigs by casting them along the edges of the
net pens. Last year I found that drifting them over the Nespelem Bar worked as well as
anything. I had people catching fish with them, just dragging them along the bottom.
These triploids will grab them and go! I never added any bait to my jigs either.
Rufus Woods is a long piece of water. Where do you begin if you're looking for
fish? If I am starting at the bottom end, or just above the dam at the Corps of Engineers
launch, I start trolling as soon as I am away from the dock. I like to start up the eastern
shore, or the opposite side from the State Park. I troll for about a quarter mile or so along
this shore, and if the action isn't to my satisfaction, I pull up and head for Pump 1. This
is about four miles up from the dam on the Sate Park side of the reservoir. I start trolling
right at the pump house below Pump 1 and will go at least a half mile up this shore.
Then I may bounce across the reservoir and fish off Brants Landing. This can be
a productive shore, and be worked from the lower end to the top edge of this federal park.
There are some productive bays above this, and Pump 5 and 7 are popular areas to try.
Then it's on to the net pens. There are three of them actually, and many people choose to
launch at the top end of the reservoir, at Seaton Grove, if they plan to fish around them.
There are always fish concentrated around the net pens. What will determine if
you can catch them or not is the current. If the current is running, you'll have good
chance at experiencing a good bite. If the current is slack, the fishing will be slow. I
have also found some good spots above the net pens that hold fish, too, and you can get
away from the crowd if you're willing to explore.
The big Trippin with the Triploids Derby isn't until May 12th, so you've got time
to get out and practice your triploid catching skills. One thing I have found about fishing
on Rufus Woods is that it is always fun, and with the derby coming up that adds an
additional attraction to spending some time on this reservoir.
I will be scheduling several trips to check on trout fishing on our area lakes,
walleye and bass fishing on Banks Lake, and kokanee fishing as it develops. I plan on
doing a seminar on kokanee fishing at Bob Feil Boats and Motors in May, so keep an eye
on my reports for the date and time.
I am particularly interested in giving Banks Lake a try. The drawdown will have
long term impact on the fishing. Fishing is forecast to be very good this spring, if history
proves out. Typically after a major drawdown bass and walleye will key on crank baits
and minnow imitations, due to the lack of small bait fish. We'll see.
Trout fishing on our inland waters should be better than every with the new
strategy the Department of Fish and Wildlife has put into place. They see great potential
in the growth of the number of anglers that would enjoy trout and warm water fishing on
our inland lakes. They did a survey and found what anglers wanted was not necessarily
more fish but bigger ones. That's what they plan to give the. If you visit the
department's web site and check the planting schedules, you'll see that the trout they are
putting into our lakes are larger than usual. They want to keep them at a minimum of
three to the pound. That should make anglers even more satisfied with their catches.
They are also boosting the number of triploid rainbow they are planting and growing
them to a pound to a pound and a half.
Kokanee fishing is more and more popular in our state. I will be tracking the
fishing on some of the better known fisheries, such as Lake Chelan, but will also be
trying some new lakes, like Deep Lake in Grant County. I'll keep you posted on what I
find out about kokanee fishing this year.
What I will be doing very soon is some spring salmon fishing in the Columbia
River Gorge. I hope to fish Drano Lake and off the Wind River. Early May is when I am
going to be there and I hope I have scheduled my visit when the springers are pouring
through this part of the Columbia River. I also hope to get in some bass fishing in the
Gorge on the same trip.
I have ambitious plans this spring, and am eager to make it all work. I will be
keeping everyone up to date through my newspaper and broadcast reports and my Blog. I
am gearing up to improve the quality of the production of my television shows, and how I
deliver them. I am working on making more of them available through my web site.
I hope you all can get out and enjoy the bounty of the fishing in our region this
spring, and I look forward to preparing the next E-Letter on Summer Fishing!