The Spokesman-Review Fishing Report Posted By Alan Liere April 13, 2012
Fly fishing
Lenice Lake bug activity is minimal, but anglers dragging black chironomid flies are taking a few 16-inchers. A lot of cruising fish are visible, so continued warm water should liven things up.
Clark Fork flows have been declining and the river has been fishable, but with warm weather melting more snow, that could change. Before heading out, call Clark Fork Trout and Tackle in St. Regis: (406) 239-6640.
Steelhead and salmon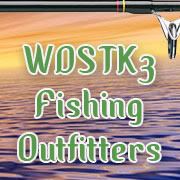 The JH Covey Spring Chinook Tournament is this weekend on Lake Coeur d'Alene. Friends who fished the lake this week said the water is cloudy and there is a lot of wood in the water from the Coeur d'Alene River. Fishing was poor.
While steelhead fishing is slowing down on the Snake, Salmon and Lower Clearwater, fish are still being caught in the upper Clearwater around Kamiah and Kooskia, and on the North Fork Clearwater at Orofino. Anglers drifting baited jigs, corkies, and bobbers are doing the best. Anglers fishing the South Fork Clearwater River up to and above Golden are also doing well. The Little Salmon River at Riggins has produced some great fishing recently.
Idaho Fish and Game's Take Me Fishing Trailer events begin Saturday at 9 a.m. at Mann Lake in Lewiston. The events are free and open to everyone. Equipment, bait and instruction provided. Participants do not need a fishing license. There will also be an event Sunday at Robinson Pont in Kamiah.
Trout and kokanee
Anglers are still catching nice-sized browns and rainbow from Liberty Lake. Rock Lake has seen a lot of fishermen recently, and while the fishing has not been spectacular, it is steady for rainbow and browns to 22 inches.
Friends who fished Sprague Lake on Tuesday finally caught two fish when they put away their trolling gear and began plunking worms and marshmallows. Both 19-inch trout were caught at the mouth of the bay in front of Sprague Lake Resort.
The triploid bite has been better than average on Rufus Woods near the first set of pens. Lake Roosevelt trollers are catching a few rainbow in the upper 10 feet by dragging dodgers with Wedding Rings or flies tipped with nightcrawler. Few kokanee have been checked.
The best kokanee fishing on Dworshak Reservoir begins right about now, with most of the action occurring between the dam and Dent Bridge. Anglers trolling slowly with weighted line or 1- to 3-ounce weights with standard spinner-gear with hooks baited with maggots or corn are reporting fair catches.
The trout bite on Banks Lake has been excellent from shore near the Coulee City Marina. Many are more than 20 inches.
Hayden Lake has rewarded anglers with some spectacular days recently.
Trolled Rapalas are accounting for some huge trout in the shallows. Trollers were taking four varieties of trout from Cocolalla Lake this week, some more than 16 inches.
Burke Lake in Grant County is still good for trout in a variety of sizes from 10 inches to more than 19. Trolled Wooly Buggers with enough lead to get down 8 feet will put fish in the boat. Upper Goose Lake, also in Grant County, has been good too.
Spiny ray
Eloika Lake bass are becoming more active. Newman Lake, too, has warmed up just enough to awaken the largemouth.
Hutchinson and Shiner lakes in Grant County are hot spots for early-season bass and bluegill. The walleye bite on Lind Coulee is warming up slowly.
Some smallmouth bass have been taken in the Snake River, mostly in the Lewiston area. Curly tailed grubs fished in 10 to 12 feet of water near rocky structure are the mainstay for Snake River smallmouths.
Roses Lake perch are some of the largest around. They appear to be scattered with the best bite on the weed lines or along the tules.
Rufus Woods water temps are still 39-41 degrees, but a few nice walleye are coming in. Water is being dumped, but not as quickly as in years past.
Most successful anglers are tipping jigs and spinners with nightcrawlers.
Banks Lake walleye fishing should be heating up, but more than likely, the fish will be in deeper water until the weed beds that went high and dry this winter have recovered. Look for steep drop offs and try throwing cranks. Lake Roosevelt walleye fishermen are finding fish near Kettle Falls.
The bite is on in many North Idaho lakes and anglers are making good catches of crappie. Hayden, Hauser and Fernan were mentioned in recent reports. In Washington, the pads are just beginning to show in some Long Lake bays – generally an indication the crappie bite is getting close.
Walleye fishing is excellent in The Dalles and John Day Pools.
Other species
The turbid water of the Snake River is good for sturgeon fishing. Toby Wyatt of Reel Time Fishing reports a hot bite in Hells Canyon. This is catch-and-release fishing only, but an 8-foot sturgeon is not out of the question. Contact Wyatt at (208) 790-2128.
Braggin' rights
One of only two dozen spring chinook that had crossed The Dalles Dam was caught this week in The Dalles Pool.
Heads up
• Washington Department of Fish and Wildlife Police Officers in the Spokane area are investigating the poaching of a cow moose near the top of Beacon Hill near Valley Spring Road and Minnehaha Park. The moose was thought to have been killed Monday evening, butchered on-site and the meat transported early Tuesday morning. Anyone with information can contact Officer Paul Mosman at (509) 710-5707 or Officer Dave Spurbeck at (509) 993-3997. Information may be given anonymously and may be eligible for a reward.
• Beginning this week, Drano Lake is closed to all fishing on Wednesdays through June. In addition, bank fishing only west of a line projected from the eastern-most pillar of the Highway 14 Bridge to a posted marker on the north shore beginning Monday.