Spokesman-Review Posted By Alan Liere May 18, 2012
Fly fishing
With area streams and rivers still high and fast, Northwest Outfitters in Coeur d'Alene recommends anglers turn to the lakes for their fly-fishing fix. Smallmouth and pike are hitting articulated leech patterns in Hayden and the south end of the Chain Lakes, and Cocolalla has been good for panfish and three different types of trout.
Sprague Lake was hot this week for bait fishermen, but fly casters reported the half hour before dark produced phenomenal topwater action.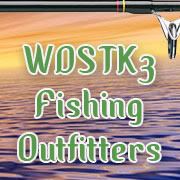 Salmon and steelhead
On Tuesday, 619 adult spring chinook were counted at Lower Granite Dam on the Snake, the most since the 2012 run began. About 3,500 salmon have been counted.
Wind River effort and catches have been heavy for chinook salmon. Including fish released, boat anglers at the mouth averaged better than an adult per every three rods last week. The afternoons have been good with a brief early-morning bite. Some fish are also being caught in the gorge. On Drano Lake, boat anglers averaged an adult chinook kept/released per every four rods while bank anglers averaged one per every three rods.
The chinook salmon that would be heading for the upper reaches of the Salmon River have not yet been seen at Bonneville Dam, so a fishing season there has not yet been proposed by IDFG. Tiny transponders inserted in hatchery origin salmon before they head downstream as juveniles are detected at the federal dams on the lower Columbia and Snake rivers, and from transponder data biologists can determine what where the returning adults originated and how many have passed over the dams. Fish managers expect to know enough by June 4 to recommend seasons.
Trout and kokanee
Area put-and-take lakes continue to provide fair-to-good trout fishing. Williams Lake is good for boat fishermen with rainbows running 11-14 inches. The lower end of Fishtrap has also been good for 14-inch rainbow, and numerous reports from Clear Lake indicate some large browns and planter-size rainbow are being caught. One angler reported catching a brown trout this week that weighed more than 12 pounds. Fishing in the evening and night has been better than during the day. West Medical trollers are catching smaller rainbow these days with the bait dunkers getting larger fish.
Waitts Lake is also giving up some large fish. A 32-inch brown weighing 14 pounds was reported caught off the Winona Beach dock last weekend, as well as an 8-pound rainbow. Still-fishermen and trollers are taking a lot of 13- to 15-inch fish. Trollers on the surface seem to be picking up a lot of the recent 8-inch plants. Nearby, Jump-Off Joe also has a lot of browns in the 16- to 19-inch range, but they appear to be more difficult to catch.
On Lake Pend Oreille, fly patterns of the ant configuration are taking mackinaw and rainbow in the top water column. Anglers who did well in the recent tournament also did well with Rapalas and Apexes. Presentations in blues, greens and black and silver are doing best.
Deer Lake anglers are doing well on rainbow trout of 2 pounds and larger by dunking Power Bait close to shore. On Loon Lake, the kokanee bite has remained steady if not fast, but more of the smaller fish are showing. A friend who fishes the lake often said the last time out he was finding kokes scattered from Morgan Park to the south end.
The "Tripping with the Triploids" tournament on Rufus Woods Reservoir last weekend had 238 entries. Fishing wasn't red-hot and the larger fish were hard to come by, but at $50 a head, the fundraiser for restocking triploids in Rufus was a success.
Spiny ray
Loon Lake largemouth fishing has been excellent around docks and on the northeast end.
At Newman and Eloika lakes, the largemouth fishing is good, as it is at Silver, Downs, Deer and Sacheen. Silver, Newman and Curlew lakes are beginning to kick out a few tiger muskie.
Discouraging reports come from most Pend Oreille River pike anglers, with some blaming recent netting efforts and others the high, cold, murky water. Nevertheless, a few fish were taken, including a reported 18-pounder in Boundary Reservoir.
Three friends casting tubes in the Spokane Arm for smallmouth came home with 21 bass, mostly 12-13 inches with a few larger one. Elsewhere on Lake Roosevelt, they also picked up four walleye and a trout.
Banks Lake walleye are on the prowl again with best success coming near weed beds. Banks has also had some excellent fishing with crankbaits for largemouth and smallmouth bass. Good numbers of large crappie and perch further sweeten the pot. There is a walleye tournament on Banks this weekend.
An Inland Empire Bass Club tournament is scheduled for this weekend on Lake Spokane (Long Lake). Fishing has picked up in the last week, but the water is still cold and somewhat murky and anglers pre-fishing the tournament are catching more smallmouth than largemouth by throwing cranks and Senkos.
Perch anglers don't normally target Diamond, Waitts and Jump-Off Joe lakes, but all are producing fish worthy of filleting in 10-15 feet of water.
Tip of the week
At the White Elephant in Spokane Valley, John Kallas said if you plan on fishing Sprague Lake, be sure to take a tape measure. Kallas and two friends bait-fished the island end of the lake this week, taking three limits of rainbow that averaged 19½ inches with several more than 20. Sprague Lake anglers may keep no more than two trout each more than 20 inches.
Braggin' rights
• The Rod Meseberg Spring Walleye Classic, which had 66 participating teams, was won by Olympia residents Mark and Shirley Olson with 33.22 pounds. The big fish was a 9.2-pounder, caught by the team of Todd Priddy and Jeb Race of Deer Park.
• Darrin Pelton of Bayview, Idaho, won the rainbow division at the Lake Pend Oreille Idaho Club Spring Derby with a fish of 13.92 pounds. Adult mackinaw winner was Eric Becker of Sagle, Idaho, with a fish weighing 18.66. James Chapman from Sagle caught a German brown weighing 11.03 pounds. In the Youth "A" division, 10-year-old Case Olesen of Sandpoint took a mack weighing 16.82 pounds, and in the Youth "B" division, 7-year-old Mickie Koch of Ponderay, Idaho, caught a mack of 11.16 pounds.
Heads up
Anyone with proposals regarding resource conservation or rules which will provide significant recreational benefit can submit these on a new, user-friendly form to WDFW through June 15. The form, as well as information about the sportfishing rule-change process, can be found at wdfw.wa.gov/fishing/regulations /rule_proposals/.
• New rules approved during Idaho's recent legislative session allow the recovery, possession and sale of game animals killed by accidental vehicle collisions. To salvage road kill, individuals must notify IDFG within 24 hours to receive a salvage permit within 72 hours. To view a list of wildlife that may be salvaged and to obtain a permit online, visit fishandgame.idaho.gov/roadkill.
Contact Alan Liere at spokesmanliere@yahoo.com