The Spokesman-Review Fishing Report Posted By Alan Liere May 25, 2012
Fly fishing
The early-summer Lahontan cutthroat bonanza begins June 1 on Grimes Lake. Grimes is best fished with chironomids.
With area rivers still high and discolored, fly fishermen are looking for options. The lakes can be good for trout, and bluegills and crappie will readily take a fly in any number of Washington and Idaho waters, but for some real fun, try fly fishing for pike. Many Idaho lakes have good populations of these toothy fish. A reader said his most successful pattern is a large white/red streamer, but also had good luck with perch and sunfish imitations. A medium-long slow strip with a pause just long enough to let the tip of the fly start to drop brings strikes. Holding the rod tip high and pumping the wrist sharply is also effective as it causes the fly to simulate a wounded bait fish.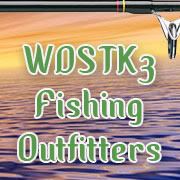 Steelhead and salmon
All of the Snake River in Washington is closed to chinook fishing. "The majority of the fish were taken in the lower Snake River, but the catch guidelines apply to the river as a whole," said Cindy LeFleur, WDFW Columbia River policy coordinator. "For that reason, we had to close the upriver fisheries sooner than expected."
Toby Wyatt said the Clearwater River in Idaho is providing the best spring salmon fishing in his guiding career. Info: Reel Time Fishing (208) 790-2128. With the Icicle River opened for spring chinook, anglers are reminded that the regulation allowing two-pole angling on the Columbia River does not apply to the Icicle.
The lower Yakima River from the Interstate 182 bridge in Richland to the Grant Avenue bridge in Prosser, and the upper Yakima from the I-82 bridge at Union Gap to the railroad bridge below Roza Dam opened to fishing for hatchery spring chinook this week.
Trout and kokanee
Williams Lake rainbow ranging 12-16 inches were biting for this week from both boat and dock.
Deer Lake continues to kick out rainbow limits from relatively shallow water around the docks. The fish range from 10 to 19 inches. On nearby Loon Lake, the kokanee bite is good for trollers using Wedding Rings and maggots on 3-4 colors of leaded line. A lot of the fish have been the smaller 8- to 11-inchers. On Lake Coeur d'Alene, a few kokanee are beginning to show.
Rufus Woods Reservoir hasn't kicked out anything terribly large recently, but anglers pitching spoons and spinners can still catch fish running 2 and 3 pounds and up to 5 pounds.
Omak Lake in Okanogan County is on fire for cutthroat fishermen. The average fish is 21 inches, but fish more than 5 pounds are not unheard of. The boat ramp in Mission Bay reopens June 1.
Spiny ray
Throwing watermelon-colored split-tail frogs, Valley Pawn 1 employees Evan Johnson and Brandon DeChenne took advantage of their midweek day off and burned up Eloika Lake largemouth. The duo took dozens of 2- to 3-pound fish as well as some more than 4. They said fishing was best from Jerry's Landing north.
Good largemouth fishing is also available at Diamond Lake and at Horseshoe Lake in Pend Oreille County. Fish are consistently less than 3 pounds, but they appear to be plentiful. Senkos work well there.
Although the trout fishing has been excellent, anglers on Sprague Lake are complaining about the nonexistent panfish bite. The lake should be producing a few bluegill and crappie, but no one has found them. Now and then, a big largemouth is caught.
Moses Lake is beginning to come on for walleye anglers. There have been numerous reports of 16- to 21-inch fish caught bouncing Walleye Killers and Walleye Poppers in 12 feet of water.
Lake Roosevelt has been better for smallmouth than walleye this week, but that may change when the Spokane Arm opens June 1. For bass, throw tight to boulders in shallow water and don't be afraid to keep a limit of fat 13-inchers for the frying pan. Watch out for partially submerged logs.
Crappie and bluegill are biting at Newman Lake. The bluegill bite will continue to improve and in other Washington waters such as Loon, Sacheen and Liberty and in the small North Idaho lakes.
Banks Lake smallmouth are coming into the shorelines and biting aggressively. Make fast retrieves with crankbaits such as the Luhr Jensen Crystal Craw Speed trap. Banks Lake walleye anglers are also experiencing good fishing for 18- to 20-inch fish.
Other species
The recreational halibut fishery off the north coast of Washington at LaPush and Neah Bay will reopen Thursday and June 2.
Tip of the week
IDFG is looking for anglers ages 5 to 16 who are interested in learning how to catch bluegills. Two special clinics have been scheduled for Hauser Lake on June 16. Participants will have the opportunity to spend a morning or afternoon on a tournament fishing boat as volunteers teach them how to catch bluegills. Fishing equipment and bait will be available, but those who own fishing tackle are encouraged to bring it. Participants will be treated to a fish fry and a barbeque. Advance reservations are required and space is limited. Reserve a spot by calling (208) 769-1414.
Braggin' rights
Doug Burrows of Lake Tapps, Wash., recently caught the largest mackinaw taken this year by clients of Darrell and Dad's Guide Service on Lake Chelan. The big-bellied fish weighed 23 pounds, 9 ounces.
Heads up
• The first annual Sprague Lake Trout Derby and Fisherman's Breakfast will be June 9 from 6 a.m.-6 p.m. at Sprague Lake Resort. The entry fee is $7 for adults and $5 for those 16 and younger. There will be a $500 first prize for big fish. Each angler entered will be allowed to weigh one fish unless there is a tie. Info and registration: (509) 257-2332.
• Sport fishing for spring chinook will reopen Saturday and Sunday only on the lower Columbia River below Bonneville Dam from Buoy 10 to Beacon Rock. Some additional days may be added after the weekend, depending on the run update.
• The Hayden Lake Sportsman's Access boat launch and parking area will be closed from June 1 through Aug. 1 while the facility is being improved. The Parkway will remain open to access.
• WDFW and volunteers from the Inland Northwest Wildlife are teaming up again to teach non-fishing adults how to fish on Free Fishing Weekend, June 9-10 – the one weekend of the year when fishing licenses are not required in Washington. A class will be held June 7, 6-9 p.m., at INWC's office, 6116 N. Market St. in Spokane. On June 9, 8 a.m. to noon, the students will use their new fishing skills and equipment at Bunkers Resort on Williams Lake in southwest Spokane County. Registration is being taken now through June 6, or until 30 class spaces are filled, at WDFW's Eastern Regional Office. Adults (at least 16 years of age) can email teamspokane@dfw.wa.gov or call (5090 892-1001. A $10 registration fee will cover some of the cost of rods and reels and other equipment given to all participants.
Contact Alan Liere at spokesmanliere@yahoo.com