Click on image to enlarge.
I really like tandem rigs whether it be with spoons or streamer flies. The top two feature
Thomas Buoyant
spoons and the bottom two are with generic spoons marketed by
Danielson
. I also use
Dick Nite
spoons and
Lake Clear Wabblers.
Good action is obtained when trolled at 1.0-1.5 mph behind a
WDSTK3 Thumper Lake Trolls
, or a 4 inch dodger,
Shasta Sling Blade dodger
or a large
Lake Clear Wabbler
spoon used as a dodger.
On some small spoons it might not be productive of good results to tip the hooks with bait as that tends to kill the action of the spoon.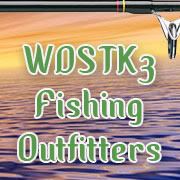 See Tandem Streamer Rigs Here.