The Spokesman-Review Posted By Alan Liere June 15, 2012
Fly fishing
Amber Lake trout fishing is off and on, but fly fishermen throwing chironomids are having some 15-fish days.
The North Fork Coeur d'Alene is fishable and success has been good. The St. Joe is fishing well in the lower stretches.
Steelhead/salmon
At Camp, Cabin and Home in Lewiston, Andy Alldredge said Clearwater River chinook around Kooskia and Kamiah are "thick and deep." Anglers are catching a lot of 12- to 15-pound salmon bouncing eggs. Water in the South Fork is starting to settle, and fishing there should get better.
The Idaho Fish and Game Commission has approved chinook fishing seasons on the upper Salmon and South Fork Salmon rivers beginning June 23.
Effective Saturday, angling is open for adipose fin-clipped summer chinook, adipose fin-clipped steelhead, sockeye (fin-clipped or not) and shad from the Astoria-Megler Bridge upstream to the Oregon/Washington border above McNary Dam.
Trout and kokanee
West Medical trollers are experiencing fast fishing using Wedding Rings tipped with worm. Williams Lake anglers are doing equally well trolling small Needlefish as well as fly/flasher combinations. Fishtrap has slowed some, but trollers are still doing pretty well, and Badger Lake trollers can catch small rainbow without much trouble.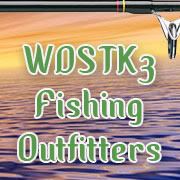 Loon Lake is yielding a few large rainbow, but the kokanee bite has been the most consistent. Inclement weather is keeping night fishermen home, but daytime trollers who brave the elements are taking limits of mostly 10- to 11-inch fish from the northwest end. This week, the schools have been suspending between 25 and 35 feet. Waitts Lake remains good for browns and rainbow of all sizes.
Kokanee fishing on Lake Chelan has been excellent for large fish. They are averaging 14 inches, but kokes as large as 17 inches are reported. Trolling at 80 to 100 feet deep in the middle of the lower basin at 1-1.4 mph just up from Lakeside has been productive. Kokanee anglers are advised to use heavier line than normal to compensate for occasional lake trout which are also biting well at the Yacht Club, the Bar and off Minneapolis Beach.
The triploid opener below Chief Joseph Dam wasn't as good as expected on the June 1 opener, but there were still a number of 4- to 7-pound fish landed and action should improve as the water warms. Fish are being taken from Bridgeport to Brewster.
Lake Coeur d'Alene kokanee are about 10 inches long. Twenty-five fish limits are coming from tribal waters on the south end. Priest Lake kokanee are big but don't seem to be numerous this year. Macks are a good bet for trollers.
Spiny ray
Bass fishermen are having good luck at Deer and Loon lakes flipping the docks for both largemouth and smallmouth. Long Lake is still quite cold, but smallmouth more than 17 inches are still common north of the Nine Mile launch. Tubes on the bottom are effective. Anglers are also taking 10-inch perch from Long. Clear Lake also is giving up largemouth in the bays to anglers throwing Senkos around the reeds.
Newman Lake bass fishing has remained steady but not spectacular. Boaters are singing the praises of the new dock at the public launch.
Fan Lake has some large bass, but mostly small ones have been biting. Fishing for planted trout has been more productive.
Anglers fishing Twin Lakes in north Idaho are finding warmer water and better fishing in the lower lake. Crappie are biting well at times and sunfish are on their beds.
Pend Oreille River anglers aren't finding any pike, but smallmouth action is fair. The water level changes constantly.
Lake Coeur d'Alene pike fishing has been slow as the water is cold and weed cover has not yet reached the surface. Success has been better in the warmer chain lakes.
Porcupine Bay on Lake Roosevelt has been hot and cold for walleye. Slow-trolled spinner/nightcrawler combinations at 30-35 feet can be good. A lot of walleyes are being caught north of Kettle Falls. Anglers near Northport report success on larger fish, taken primarily on jigs tipped with nightcrawlers.
Rufus Woods walleye have averaged 19 inches, but some of the females still have eggs. Jigging has been effective out of the current just north of the Seaton Grove launch.
Banks Lake walleye fishing can be excellent, but there is little weed growth and a lot of the fish are suspending. Trolled diving plugs are being used to locate concentrations of fish. John Kallas at the Valley White Elephant said he and friends dragged bottom bouncers and Fire Tiger blades at Banks recently in 25-32 feet of water and connected with a lot of fat walleyes in the 16- to 20-inch range.
Other species
Bank anglers fishing in the Columbia River Gorge averaged 10 shad per rod last weekend. Dick Nite spoons and small shad darts in red and white are doing well. More than a million shad have passed Bonneville Dam so far.
Hunting
Tip of the week
Kokanee have particularly delicate flesh and will spoil quickly if not iced properly. If you notice the rib cage separating from the flesh, your fish are already beginning to decompose. To prevent such waste, fill a cooler one-quarter full of ice, float all the ice with water and immerse the kokes as you catch them. This slurry becomes much colder than straight ice.
Braggin' rights
Clinton Hartman won last Saturday's Sprague Lake Trout Derby with a fish weighing 4 pounds, 9 ounces. Second-place Marrissa Young's fish weighed just a half ounce less, besting third-place Victoria Huston by a half ounce. The first-place fish was the shortest of the three.
Overheard
At least a dozen lakes in the Odessa area have gone dry, and Deer Springs Lake, 11 miles northeast of Odessa, continues to drop. The inlet creek is dry and it appears Deer Springs Lake will soon be gone. Will Coffeepot and Lower and Upper Twin be next?
Contact Alan Liere at spokesmanliere@yahoo. com