The Spokesman-Review Posted By Alan Liere June 22, 2012
Fly fishing
Wading and floating should be excellent by the weekend on the Coeur d'Alene River. Pmds are hatching on the lower river with drakes more common on the upper sections. Dry fly action could begin any time.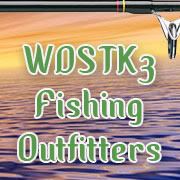 The Clark Fork is still out of shape, but some of the tributaries are fishing well. In eastern Washington, try the lakes for trout. In north Idaho, pike and bass fishing is good on the chain lakes, and Hayden, Hauser, Cocolalla and Fernan have multiple species readily taking flies.
The Yakima has been up and down, and it can change in a few hours. Even when the water has been bumping, there has been decent fishing down low. Predominant bugs have been caddis and pmds.
Steelhead and salmon
Chinook fishing is fair to good on the Clearwater River in Idaho. The fish continue to move up. Approximately 500 chinook a day were coming over Lower Granite at midweek. The best fishing is from Oroville up.
Chinook fishing seasons on the upper Salmon and South Fork Salmon rivers open Saturday. They will continue until further notice from Fish and Game. Idaho Fish and Game plans no changes to the chinook salmon fishing in the lower Salmon or Little Salmon rivers through the weekend. Fish and Game estimates the remaining sport harvest share is about 1,500 adult salmon. Anglers interested in salmon fishing in the Riggins area should watch for news releases on that fishery next week.
Ocean Area 2 (Westport) opened last weekend. A total of 898 anglers landed 1,323 marked chinook. At Marine Area 1 (Ilwaco) anglers averaged 1.23 chinook per rod last week. Today is the last day for the mark selective chinook fishery in Marine Area 1. Beginning Saturday, hatchery coho and any chinook may be retained. No more than one of the two-fish daily limit may be a chinook.
Catch rates ranged from fair to good during the first weekend of summer chinook angling on the lower Columbia River. Boat anglers in the gorge had the best success where anglers averaged 1.05 summer chinook caught per boat.
Trout and kokanee
The south end of Coeur d'Alene Lake in the Harrison area is hot for 9- to 10-inch kokanee. A tribal license is required to take the 25-fish limit. Loon Lake, where the kokanee limit is 10, remains good for 10-inch fish. Friends and I took limits this week trolling four hours on a miserable Tuesday morning. Most fish were suspended at 30-35 feet. Go slowly. Big kokanee continue to bite on Lake Chelan, but the large schools are moving around in the lower basin at all depths.
Badger Lake cutthroats take some finding, but trollers who do say the fishing is "crazy" for lots of 14- to 19-inch fish. Small Apexes and Wooly Buggers will do the job. In the other direction, Diamond Lake is good for 12- to 13-inch rainbow and browns, and Jump-Off Joe has been kicking out some large browns near the spring. Grandkids and I fished the dock at Winona Beach Resort at Waitts Lake Sunday and saw a lot of 12- to 16-inch trout brought to the fish cleaning station nearby. We caught small trout and some decent perch.
The lower end of Williams Lake is good for limits of rainbow and cuttbows averaging over 14 inches. Limits have been coming in less than four hours on Wedding Rings tipped with worm.
Fish Lake brook trout to 16 inches are available along the edges. Anglers dunking worms under a bobber are taking them from shore as well as from boats. Tiger trout are also biting. Clear Lake rainbow are running about 12 inches for still fishermen dunking worms or Power Bait. Fish just off the bottom. West Medical Lake trollers are dragging small green Apexes for lots of 12-inch rainbow.
Potholes rainbow running 3-6 pounds have been fairly easy to come by in the southwest dune area and along Medicare Beach by anglers trolling Wedding Rings in 15-25 feet of water.
Twin Islands on Priest Lake is a good destination for eating-size mackinaw. Anglers pulling light-colored plastics on bottom are finding a lot of 3- to 6-pound fish in 100 feet of water. Trolling speed should be 1.5-2.0 mph.
While Lake Roosevelt trout fishing remains poor, triploid fishing at Rufus Woods Reservoir has picked up near the upper net pens. Spinning and fly fishing have both been effective.
Spiny ray
Coeur d'Alene and the chain lakes are your best bets for northern pike this week. Pike anglers seem to have given up on the Pend Oreille River.
Lake Roosevelt was rising quickly at midweek, and though a few good walleye reports came from the Spokane Arm between Buoy 5 and Porcupine Bay, a number of anglers said they were skunked. Most fish are caught on a worm harness.
Deer Lake largemouth are lying under docks. Find one that hasn't been pounded, and you're in for a treat as Deer holds a lot of 5-pound bass. Some big smallmouth were taken from Long (Spokane) Lake this week on crawdad-colored tubes.
Crappie fishing should be getting good at Lake Spokane. Friends say they saw a young boy with a big fish at the launch at Nine Mile that turned out to be a 3-pound crappie.
Walleye fishing at Banks Lake has been excellent. Good numbers of walleyes in the 20-inch category are being taken. Anglers are bouncing spinners on the back side of Steamboat rock, and throwing plugs and plastics in Moon Bay.
Bass fishing at Banks has been amazing. Fish shallow near the Coulee City Marina and along the east shore. Smallmouth are moving into shallow flats, so fishing should get even better.
Walleye fishing on Potholes Reservoir has been good. Trolling bottom walking worm harness set-ups in 10-15 feet of water is consistent in Winchester Wasteway, Crab Creek and Lind Coulee.
Other species
The Lower Columbia shad run continues to be strong. Below Bonneville Dam last weekend, 367 shad anglers (including 11 boats) were checked with 1,873 fish. The John Day Pool is reported to be improving for shad.
Carp rooting around in the shallow bays of Grant County lakes are perfect target for bow hunting. A recent local Carp tournament on Potholes Reservoir took more than 400 pounds of carp to win.
Tip of the week
While area pike lakes are still cold, fish shallow water where fish are more active. This is sight fishing. If you see a pike soaking up sunshine, cast a soft plastic jerk bait close, but not too close. Let the bait sit just there 30 seconds before moving it.
Braggin' rights
Launching out of Nine Mile last Saturday, Spokane resident Matt Collins caught a northern pike at Long Lake so big it didn't fit in the net. His 17-pound fish hit a tiny sinking Rapala he was throwing for crappie. With but a light fishing rode and 6-pound test line, Collins had his hands full for 15 minutes. "It doesn't seem fair." said his fishing partner, John Petrofski. "The same day, Matt caught a 4 1/2-pound smallmouth."
Overheard
A Delta Waterfowl study confirmed what veteran duck hunters have long suspected: Harvests of many waterfowl are taking place significantly later in the year than in previous decades. While the study concluded it is "plausible," the harvest data can neither prove nor disprove any connection between migration and climate change or changes in farming practices.
Heads up
• Spokane Indians baseball fans may sign up to win a fly fishing trip for two on the St. Joe River as they enter Avista Stadium Monday evening. Sign-up for the trip, donated by MacKenzie River Pizza, is also available at local outlets.
• The first annual CCA Wenatchee River Salmon Derby will run July 13-15 out of Wenatchee, taking advantage of the summer run salmon season, which begins July 1. Info: www.wenatcheesalmonderby.com.
• The Bridgeport Marina Park Lagoon, an inlet of the Columbia River, will be temporarily closed to fishing through Saturday when juvenile anglers registered for the "Hooked on Kids Fishing Derby" participate in a fishing event.
Contact Alan Liere at spokesmanliere@yahoo.com