The Spokesman Review Fishing Report Posted By Alan Liere June 8, 2012
Fly fishing
The Coeur d'Alene River was fishing well, but the action has been dampened by the past few days of rain. River flows at Enaville jumped from 3,000 cfs to 7,000 cfs in 48 hours. It won't take long to be good again.
The Clark Fork River is beginning to gain a little visibility, but it is still running hard. Fly fishermen who can't wait to fish moving water should look at the tributaries such as the Thompson, St. Regis or Rock Creek, and tailwaters like the Missouri.
Upper Wheeler Reservoir, 11 miles southwest of Wenatchee in Chelan County, is open to catch-and-release fly fishing after many years of being closed to public access. The lake will be stocked by WDFW and maintained by Wenatchee Valley Fly Fishers. While there are 15 other fly-fishing-only waters throughout Washington, there were no such waters open in Chelan County.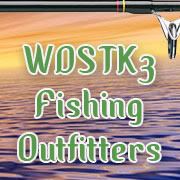 Steelhead and salmon
Chinook fishing was slow earlier this week at the mouth of the Clearwater, but a lot of fish were caught farther up by Orofino.
Yakima Reservation Boundary Reach opened to fishing for spring chinook June 1. The season runs through the entire month. Non-tribal anglers must purchase a Yakama Nation tribal fishing permit in addition to a 2012 WDFW freshwater fishing license and the Columbia River Salmon/Steelhead Endorsement.
Trout and kokanee
The Spokane River opened to fishing June 1. The river is high but fishable, and anglers hitting the pockets and back eddies caught a few trout.
Small Deer Lake mackinaw are hitting now and then in deep water around the Narrows, but the rainbow fishing for small plants is fast. Williams Lake trout fishing remains excellent for rainbow and cutthroat and WDFW fish hatchery crews will make it better with a plant of 365 1½-pound triploids in time for the Father's Day weekend. Clear Lake has been fair for rainbow and browns, and Badger and Fishtrap lakes are still having decent days.
Diamond Lake browns and bows are biting well on the far west end of the lake and around the island. Most of the fish are 10-12 inches, with an occasional fish to 20 inches.
Blue Lake in Okanogan County has been good at times for rainbow. Most are 11-13 inches long. Spectacle Lake has been excellent for 10- to 14-inch rainbow on the troll. Orange Flatfish has been the hot lure.
Selective-gear waters, such as Big Twin, Blue (Sinlahekin) and Big Green lakes are predominately rainbow fisheries. Anglers should consult the current sportfishing rules since some of the selective-gear lakes have varying bag-limit restrictions. Kokanee anglers should try Palmer, Bonaparte and Patterson lakes in Okanogan County for fish in the 10- to 13-inch range.
The Tucannon River impoundments – Big Four, Blue, Curl, Deer, Rainbow, Spring and Watson lakes – continue to be stocked with rainbow trout and are providing lots of catches, reports WDFW Wooten Wildlife Area Manager Kari Dingman.
Spiny ray
Lake Roosevelt smallmouth fishing is beginning to peak. Friends who fished there recently had a couple of 16-inch smallmouth included in their 10-fish limits of 11- to 14-inchers. Four-inch tubes thrown toward rocky shores brought the hits. Smallmouth fishing has also been decent in the Pend Oreille River, though it remains quite cold.
The June 1 opener on the Spokane Arm of Lake Roosevelt was good for walleye that were a little larger than those taken on last year's opener. Several anglers also reported catching larger-than- normal burbot. Anglers fishing near Porcupine Bay reported excellent fishing the first day, with the bite diminishing as the days went on. There was quite a bit of floating debris. The fish are starting to spread out because of rising water.
Lake Roosevelt is coming up at 1-2 feet a day. At current rates, only a few launches will be unusable by the weekend. These are China Bend, Snag Cove, Napoleon Bridge, North Gorge, Evans, Marcus Island and Hawk Creek.
Liberty Lake crappie and bluegill are beginning to hit jigs consistently, and some decent smallmouth are also being taken. The crappie run 9-13 inches.
Eloika Lake is getting weedy, but the bass fishing is holding up and crappie fishing is good at times. Largemouth have moved to slightly deeper water.
Small tiger muskie are showing at Newman Lake, but the ones more than 40 inches are still a little shy. The bite should be getting closer.
Downs Lake largemouth are buried in the pads, but weedless plastics are putting them in the boat. A few perch to 13 inches have been reported recently. Another good largemouth destination is the lower end of Coffeepot Lake. A lot of 3- to 5-pound bass are showing as well as some large trout.
For a real spiny-ray adventure, put a small boat in the creek by the bridge and head upstream to Bonnie Lake. Bass as well as huge perch and crappie are in abundance.
Lots of smallmouth are caught in the Snake River between Lower Granite and Lewiston. A few large perch and some crappie are being pulled from backwater bays.
Other species
The channel cat bite is picking up on the Palouse River near Lyons Ferry. Most of the fish are 2-6 pounds, but there a good numbers of 9- and 10-pounders.
Tip of the week
Washington fishing licenses make a great Father's Day gift. They can be purchased online, toll-free by phone at (866) 246-9453 or at any of 600 license dealers statewide.
Braggin' rights
Of the thousands of fishing holes across the nation, two locations managed by the U.S. Army Corps of Engineers' Walla Walla District made the Bassmaster Magazine Top 100 list of best places to fish for bass. The Columbia River in Oregon and Washington ranked No. 20 and Dworshak Reservoir in Idaho ranked No. 85.
Overheard
A reader emails: "Last year I fished a large slough (on the Pend Oreille River for pike) a dozen or more times, never failing to get less than a dozen, and often twice that many, in a 3- or 4-hour period, all with a fly rod. I fished the same slough for over 4 hours recently and had two strikes by the smallest pike I've ever seen. One could not have been more than 10 inches, and the other might have been 12. Water was a little cloudy, but I've caught a lot of fish in worse. My conclusion is those little guys were only there because they could swim through the gill nets. Sadly, Fish & Game has done an unusually fine job of killing off what was becoming one of the (most fun) fly fishing fisheries in the state. It was especially good because I could fish it while most other freestone rivers are blown out. I understand the reasoning behind the nets, but it seems like those horses got out of the barn several years ago."
Heads up
• Saturday is Free Fishing Day in Idaho. Free Fishing Weekend in Washington is Saturday and Sunday. Montana is offering free fishing June 16-17. No licenses required on these days in any of these states.
• A fly fisher who accidentally spooked a cow and calf moose from their bed while moving through the brush along the Little North Fork of the Coeur d'Alene River had a tense encounter for 20 minutes the other day. He was able to get up the only tree in the clearing during her charge, although he broke his Sage rod in the process. He called The S-R to warn other anglers to be aware that moose are especially protective at this time. "She was taking no prisoners," he said.
• The Sprague Lake Trout Derby runs 6 a.m.-6 p.m. Saturday, with prizes and fun stuff for kids. Register before you go fishing at Four Seasons Campground Resort, (509) 257-2332, or Sprague Lake Resort, (509) 259-7060. Sprague firefighters are putting on a Fishermen's Breakfast starting at 5 a.m.
• The next big salmon opener on the lower Columbia River begins June 16 when fishing opens for summer chinook (known as "summer hogs") and fishing for hatchery steelhead and sockeye expands upriver from the Megler Astoria Bridge upstream to Priest Rapids Dam. Preseason forecasts anticipate a strong run of 91,200 summer chinook and a stronger run of 462,000 sockeye this year
Contact Alan Liere at spokesmanliere@yahoo.com