The Spokesman-Review Posted By Alan Liere July 13, 2012
Fly fishing
The Coeur d'Alene River is fishable from one end to the other and the fish are spread out. The big pools get hammered, so get away from the road and fish the water between them.
St. Joe flows are still high but becoming more manageable. A big bushy dry in the fast water can be productive. Flows on the Clark Fork at St. Regis are around 8,000 cfs and fish have been feeding throughout the day. The evening caddis hatch has been huge.
Trout and kokanee
Deer Lake rainbow trout averaging about a foot in length have been hitting fairly consistently at the end of The Narrows at a depth of 12-20 feet.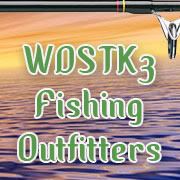 West Medical Lake has been good, despite the heat, with the smaller fish averaging 11 inches and the larger fish 13-15 inches. Flatfish are popular. The lake is warming up quickly and algae is starting to grow, so to avoid the "weedy" or muddy taste of the fish, clean them immediately and put them on ice. Fishing in most of the other southern put-and-take lakes is holding up in the hot weather. Excellent reports come from Badger and Williams, fair reports from Fishtrap and Sprague.
To the north, Jump-Off Joe has been fair for 12- to 14-inch browns and Waitts Lake remains consistent for browns and rainbow.
Rainbow trout fishing at Potholes Reservoir in Grant County remains excellent with many, fat 20-inch trout being taken. Trolling plugs along the sand dunes, Frenchman's Wasteway and Medicare Beach has nailed numerous 2- to 4-pound fish with 6- to 7-pound monsters showing up. One family group hauled in 13 fish weighing 52 pounds.
Kokanee running 12-14 inches have been biting well at Dworshak Reservoir. Two colors of lead core line or 12 feet on the downrigger will put you in the zone.
If you're trolling for kokanee at Loon Lake, go early, as the bite tails off after 9 a.m. Still-fishing at night has been mostly good for 11-inch fish, but as friends and I discovered, it is not a sure thing. Following back-to back limits at night, we drew a skunk the third time out. Lots of fish showed on the graph, but they weren't biting.
Lake Coeur d'Alene kokanee trollers have been limiting consistently on 9- to 10-inch fish.
Roosevelt trout anglers are catching many smaller fish, most likely this spring's release from the net pens, which were dumped sooner than usual because of low water.
Grimes Lake is pumping out nice numbers of Lahontan Cutthroat trout with many more than 20 inches.
Use either chironomids or Wooly Buggers for best success. As the surface temperature warms, presentation must be deeper in the water column.
Salmon and steelhead
The Salmon bite is mostly over in the Snake, including at Riggins. Many stretches of river are still open, but seasons and limits may change on short notice. Check the salmon hotline at 855-287-2702 or the online salmon seasons and limits page at: http://fishandgame.idaho.gov/ public/fish/?getPage=110.
Friends who fished for chinook in the Columbia early in the week said the river was blown out at Bridgeport. At Brewster, water conditions were better, but the fish hadn't arrived. The launch at Wells Dam was under water. There was a little chinook action near Confluence Park in Wenatchee. Anglers are hoping the water at the confluence of the Okanogan cools enough to keep the fish from a quick sprint up the river. Water temperatures are on the cusp.
The sockeye are in below Wanapum Dam and trollers are limiting on 20-inch fish. Best luck comes with a moderately slow troll 5-15 feet down. Use a size 0 silver dodger and a 15-inch leader to a pink squid baited with shrimp.
Steelhead counts over Lower Granite Dam are low. The catch-and-release season on the Clearwater River has been nothing to get excited about.
Anglers averaged nearly a salmon per rod last week at Ilwaco, split evenly between chinook and coho.
Spiny ray
Perch fishing on Spokane (Long) Lake has been excellent in the Suncrest area just off the big field. Most anglers are still-fishing with worms, but trollers have done well at times dragging small crankbaits on bottom in 15 feet of water. Most fish are 9-10 inches long, but a fair number of 12- to 13-inchers have been reported.
Sacheen Lake has had some excellent largemouth days, giving up several bass in the 4- to 6-pound range. Plastic grubs are working. Some big bass were also caught at Fan Lake using the same lure.
Lake Coeur d'Alene and the connecting chain lakes are good for pike with the larger fish coming from the main lake. The fish are aggressive and easy to find, as the cabbage beds are starting to show and the pike are congregating there. Don't overlook fallen trees.
Tiger muskie have been hitting spinner baits and jerk baits at Newman Lake, but they are especially fond of soft plastic white frogs. Curlew Lake tiger muskie are more abundant, but they also seem to be more fickle. Anglers report seeing as many as a half dozen big fish at a time, but getting them to bite is difficult.
Water levels remains high on Banks Lake. Although it is cloudy in places, the walleye bite remains strong. Focus on the 20- to 35-foot depth range with bottom bouncers and spinner rigs. Banks Lake smallmouth can be found at all depths, so adjust your fishing methods – topwater plugs and spinnerbaits to tubes and grubs. For largemouth, get in shallow and throw topwaters into cover.
Most Walleye anglers on Potholes Reservoir are still struggling with the high water which has fostered weed growth throughout the dunes.
On Lake Roosevelt, walleye fishing is still decent, but becoming less predictable. Anglers are having to look harder and experiment to find the key. Fish have been small.
Tip of the week
The more than 50 seep lakes below O'Sullivan Dam have some excellent untouched fishing. Trout anglers fishing from shore do well with Power Bait at Warden Lake. Hutchinson and Shiner lakes, on the Columbia National Wildlife Refuge, are producing perch, bluegill and largemouth bass. The Potholes canal system – Soda, Long and Crescent lakes, have been kicking out Rainbow trout to 6 pounds as well as nice smallmouth and largemouth bass. The fishing pressure on these lakes is low.
Overheard
The sockeye run on the Columbia is larger than the forecast. Shane Magnuson of Upper Columbia Guide Service (509 630-5433) said the smallest sockeye he's catching this year are larger than the biggest fish he got last season. They are pouring over Priest Rapids Dam and should be above Rocky Reach, below Wells and at the Brewster Pool soon.
Heads up
Retention of sockeye in the mainstem Columbia River from Bonneville Dam upstream to the Highway 395 Bridge in Pasco is prohibited, though the area remains open through July for hatchery summer chinook. The Snake River portion of the sockeye run is listed for protection under the Endangered Species Act and non-Indian fisheries are limited to a 1 percent harvest rate on these fish, which has already been reached.
Contact Alan Liere at spokesmanliere@yahoo.com