The Spokesman-Review Posted By Alan Liere July 6, 2012
Fly fishing
The Clark Fork River has come into shape with good visibility and hungry cutthroat. Big goldens are getting a lot of action, as are PMDs.
Fish Lake near Cheney is a good place for smallish tiger, fished from shore or boat. A sinking fly line with a black minnow pattern works well.
The Catch-and-release season on the Clearwater River began Sunday, including sections of the North Fork and South Fork. Fish are being caught.
Smaller tributaries in the Methow area, such as Beaver Creek (Methow River tributary) and Boulder Creek (Chewuch River tributary) are providing good fishing for brook trout. In Beaver Creek, the limit is five a day, no minimum size, and in Boulder Creek, it's 10 brook trout per day, no minimum size.
Fly fishermen have been taking some huge rainbow from Potholes Reservoir without even putting in a boat or float tube. Reports say there is good fly fishing available right off the Mar Don Resort dock.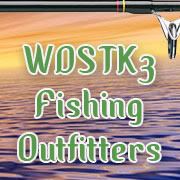 Trout and kokanee
Loon Lake kokanee seem to be moving toward the south end of the lake. Trollers are finding them suspended at about 35 feet over deeper water. Night fishermen are finding a good bite late on 10-to 12-inch fish. If the weather holds, look for kokes just off the bottom in 32-36 feet of water. The standard white, green, or pink Glo-hook is hard to beat.
In the Okanogan, Palmer Lake also has a good population of kokanee in the 11- to 13-inch range and Patterson Lakes has kokanee in the 10- to 11-inch range.
The Lake Chelan kokanee fishery has slowed down a bit from earlier in June, though anglers still continue to catch some of the nicest kokanee Lake Chelan has offered in recent memory. Many of the fish have been in the 14- to 16-inch range and occasionally larger. Anglers should focus their efforts between Wapato Point and the Narrows during the first half of July.
Good kokanee fishing is available on Lake Coeur d'Alene. The fish are spread out and running 9-10 inches.
West Medical Lake anglers are taking limits of trout up to 16 inches. The fish have not taken on the muddy taste common to summer West Medical trout.
Sprague Lake trollers have come in with nice stringers. The standard Wedding Ring has been the hot lure.
Omak Lake in Okanogan County is giving up big cutthroat to trollers dragging spoons in deep water. The south end of the lake has been particularly good.
WDFW recently planted hundreds of 1.5-pound jumbo trout in three popular "drive to" high-mountain lakes near Yakima. Those lakes include Leech and Dog lakes near White Pass, and Lost Lake near Snoqualmie Pass. Cooper Lake, in the upper Cle Elum River basin, also received a planting of 765 jumbos along with 8,160 catchable rainbows (11-13 inches) planted in mid-to-late June.
Salmon and steelhead
The Icicle River spring chinook fishery opened June 2 and continues through July 31. It has been consistently producing a few fish each day. As groups of salmon move out of the Wenatchee River into the Icicle, that action will continue. It seems to occur with water temperature and river discharge fluctuations, so it's a timing game, and not exact science. Most anglers are using a Spin 'n Glo and herring.
Citing the late arrival of this year's run, WDFW has extended spring chinook fishing through July 31 on the 20-mile stretch of the Yakima River between the Interstate 82 Bridge in Union Gap to the Burlington Northern Railroad Bridge 500 feet downstream from Roza Dam. Fishing has been good for springers in that stretch.
Spiny ray
Bluegill fishermen are having a ball casting along the shore at lakes such as Silver, Loon, Fernan, Hayden and Waitts. Almost every Inland Empire and north Idaho lake not managed as a put-and-take trout water has a good population of bluegill and fishing is just now getting good. For perch, go a little deeper, and also try lakes such as Diamond, Jump-Off-Joe, Sacheen and Silver.
Deer Lake bass are still active but have moved out from the docks into the shallow weeds nearby.
Walleye anglers are having some excellent days between China Bend and the Northport campground on Lake Roosevelt, though the fish aren't real big. Jigging has been best, but the Norisada Blade Bait is also popular. The current is strong and fish are holding in about 36 feet of water. Other sections of Roosevelt have also been productive, with good reports coming from Kettle Falls, Keller and Porcupine Bay.
Chad Jackson, WDFW Columbia Basin district fish biologist, said fishing for walleye, largemouth and smallmouth bass is good at Moses Lake, Banks Lake and Potholes. All three also have populations of bluegill, crappie and perch.
Evergreen Reservoir on the Quincy Wildlife Area in Grant County is another good July fishery in the Basin, with walleye, largemouth bass, bluegill and other species. Lower Goose Lake, one of the Seep lakes south of Potholes Reservoir, is a good crappie and bluegill fishery. Hutchinson and Shiner lakes, on the Columbia National Wildlife Refuge are heating up for largemouth bass, bluegill, crappie and perch.
Potholes Reservoir is still high, but it will be dropping quickly. As the weather warms, bass fishing should be easier and more predictable. Walleye fishing has been fair, and it, too, will improve as the water level drops.
The mouth of the Yakima River is a good smallmouth destination. A few walleye are also being taken.
Other species
Ocean crabbing reports out of units 8-1 and 8-2 have been good with most fishermen noting that limits were easy to come by. The season started with a two-day opening (last Sunday and Monday), and has since moved to a regular Thursday-Monday schedule.
For a mess of nice catfish, hit the Palouse River near Lyons Ferry. Most fish are running 2-3 pounds. The Yakima River just out of Richland is also good for channel cats, some as large as 10 pounds.
Tip of the week
Mack's Lures has combined its Smile Blades with a special Mustad hook with a curved shank. It's called The Smile Blade Slow Death Rig and it's ready to go right out of the package. When rigged with a nightcrawler and fished slowly, it produces a wild action that walleye love.
Overheard
A recently completed dock at the public access on Deer Lake makes launching a boat much easier this year.
Heads up
Idaho Fish and Game has opened another section of the upper Salmon River to Chinook salmon fishing. The Ellis area is open from the posted boundary about 100 yards upstream of the mouth of the Pahsimeroi River upstream to the Highway 75 Salmon River bridge about 250 yards upstream of the mouth of the East Fork Salmon River.
Several new and changed Idaho laws took effect Sunday that will affect the state's hunters and anglers. The legislation adds a wolf tag to the sportsman's pack, increasing the price from $117.25 to $124.25. It also incorporates a nonresident three-day fishing license into the adult nonresident hunting license with no change in the current license fee.
Chinook salmon fishing on parts of the lower Salmon River will close at the end of fishing Sunday. The sections to close are from the mouth of Shorts Creek upstream to the uppermost boat ramp at Vinegar Creek and from the Rice Creek Bridge upstream to the U.S. Highway 95 Time Zone Bridge.
Contact Alan Liere at spokesmanliere@yahoo.com