The Spokesman-Review Posted By Alan Liere June 29, 2012
Fly fishing
At midweek, friends fishing for walleye between Northport and China Bend reported a huge mayfly hatch and a lot of trout activity.
Clark Fork River guides are hoping for a continued drop in flows through the weekend. Fish are eating on top. Concentrate on soft pockets behind the willows. Any big, golden stone imitation on top with a pheasant tail dropper should put you in fish.
The St. Regis is a good option, but wading is tough as it is still big. It has seen little pressure. The Coeur d'Alene may be back in shape by the weekend. PMDs on the lower river have been the best hatch. The Coeur d'Alene River has been crowded.
Gold Pass, the popular access route from St. Regis, Mont., to the St. Joe River is open. The Joe is still high, but fishing has been fair.
Steelhead/salmon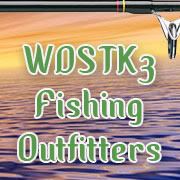 A record 462,000 sockeye are expected to run up the Columbia, and of those, 431,300 are expected to be headed to the Okanogan River. It won't be long before both summer-run chinook and sockeye are pouring into the area. There should be plenty of fish for those who plan to participate in the first annual CCA Salmon Derby, July 13-15.
All chinook salmon sport fisheries in Idaho will remain open through the Fourth of July. A closure shortly after then is most likely for the fishery in the lower Salmon and Little Salmon rivers, where anglers already have harvested more than 70 percent of the sport fishery share.
Trout/kokanee
With so much wind and rain, Loon Lake anglers have been staying away in droves. A friend who sneaks out to troll during the infrequent sun breaks said there are still plenty of kokanee at around 35 feet, but they are spread out and the bite is light. Night fishermen are almost nonexistent. Friends and I have spent many Fourth of July nights successfully still-fishing for kokanee and watching fireworks on Loon.
Lake Coeur d'Alene kokanee are biting well throughout the lake. Most are around 10 inches.
This season's nice-sized kokanee on Lake Chelan are getting more difficult to locate as they move in big schools all over the lower basin. Anglers have been catching them off of Rocky Point and around Wapato Point, but it has been inconsistent.
Rainbow fishing has been good on the east side of Clear Lake. The fish are averaging about 13 inches and are cooperating with boat baiters and trollers. West Medical baiters are doing well. Williams Lake remains good, especially for trollers. Cookie-cutter 10-inch rainbow are plentiful at Diamond Lake.
The Sprague Lake rainbow bite has been inconsistent, but fish to 7 pounds have been reported. There are good numbers of 14-inchers.
Trout fishing has been extraordinary for 2- to 6-pound fish on Potholes Reservoir, specifically in Lind Coulee and off Medicare Beach and in Frenchman's Wasteway. Troll a Rapala Shad Rap crankbait in 10-20 feet of water.
Conditions have improved for the special triploid fishery below Chief Joseph Dam, and better catches are being reported. Good catches of triploids have also been taken at the upper net pens on Rufus Woods Reservoir.
Spiny ray
Near Potholes Reservoir, Winchester Wasteway and Crab Creek walleye fishing is heating up. Troll bottom-walker rigs with nightcrawlers in 10-15 feet of water. Bass fishing is also good. Another walleye option is Soda Lake with good reports coming from the Columbia National Wildlife Refuge water.
Rufus Woods is moving fast, but walleye anglers are finding nice fish stacked up in the eddies. On Roosevelt, walleye fishermen are dodging driftwood but catching fish. The winners of the Kettle Falls Governor's Cup last weekend were trolling plugs on planers near shorelines and in shallows.
Friends fishing Roosevelt north of China Bend say the walleye are smaller this week than last but the bite is still decent. In the Spokane Arm, the bite has been either red-hot or dead. A few positive reports came from Hawk Creek.
Bass fishing for largemouths is still good at Eloika, Loon and Deer lakes and has also been good at lesser-known bass destinations like Jump-Off-Joe, Waitts, Diamond and Sacheen. For smallmouth, it would be hard to beat Newman, Long Lake, Lake Roosevelt, or Banks, which has been excellent for walleye and has yielded a few perch more than a foot in length.
Idaho chain lakes have been good for northern pike. The fish aren't normally large, but there are a lot of 24-inchers and they are beginning to hit spinner baits.
Anglers report numerous tiger muskie sightings on Curlew Lake. That doesn't necessarily translate to catching, but the big fish seem to be everywhere at times.
Other species
The crab fishery in all marine areas of Puget Sound will open on Sunday. Crabbers should note that the season begins next week with a two-day opening Sunday and Monday, and will be closed Tuesday and Wednesday before reopening on its regular weekly schedule (Thursday through Monday) on Thursday. The crab population remains abundant.
Tip of the week
Crank baits such as the Hot 'n' Tot or Shad Raps with a little more side-to-side action put out more vibration and are the ticket to catching summer walleyes. Summer fish have choices. Make your lure stand out.
Braggin' rights
Greg and Cathy Goodnight won last weekend's Governor's Cup at Kettle Falls, weighing in a two-day total of 30.96 pounds of walleye and besting second-place finishers Don Ghramm and Craig Bircher by a meager .02 of a pound. The final event on the Washington Walleye Tournament Circuit this year will be the Spokane Walleye Club's Washington State Walleye Championship at Kettle Falls, July 28-29.
Five-year-old Luke Marcellus shared action last weekend on Badger Lake with his father, Jared. "There were three of us bottom fishing at Badger Lake," Jared said. "It took 3 hours, but we limited – mostly small rainbows with one larger rainbow and a 22½-inch cutthroat."
Overheard
High water has resulted in no-wake restrictions in several northern Washington lakes and rivers. Included are the Pend Oreille River, Bead Lake and Diamond Lake.
Heads up
• If your Independence Day plans include a road trip to the opposite side of the lower Snake River, keep in mind that most U.S. Army Corps of Engineers dams are closed to cross-dam public vehicle traffic on federal holidays. Open on the Fourth of July, from 7 a.m. to 5 p.m. will be Lower Granite Lock and Dam, near Pomeroy, Wash.
• The Pend Oreille River Pike Palooza begins today and runs through Sunday from the Idaho state line to the Boundary Dam forebay. Sponsored by the Kalispel Tribe, the event offers prizes up to $1,000 in a variety of categories, and each fish caught gives the participant a ticket for raffle drawings. There is no entry fee, but participants must preregister at check stations before they start fishing. Anglers must check in their catch between 10 a.m. and 8 p.m. at Oldtown boat launch, Cusick boat launch, or Metaline Waterfront Park. A second Pike Palooza is set for Aug. 3-5.
• Sturgeon anglers fishing in the Columbia and Snake River reservoirs above McNary Dam are asked to watch for and return special yellow spaghetti tags found in the dorsal fin of some of the fish. Mail tags and pertinent information to the Sturgeon Tag Reward Program, Oregon Department of Fish and Wildlife, 17330 SE Evelyn St., Clackamas, Ore., 97015. Respondents who include their name, mailing address and telephone number will be sent a complimentary "Columbia Basin Sturgeon Conservationist" baseball cap.
Contact Alan Liere at spokesmanliere@yahoo. com