The Spokesman-Review Posted By Alan Liere July 20, 2012
Fly fishing
The Coeur d'Alene River is full of recreational floaters when the weather is good, but storms and cooler weather could work well for fly fishermen. Use big attractor patterns with a dropper in the riffles and break out the small dries for flat-water evening fishing.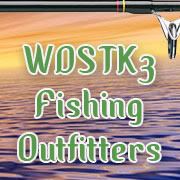 The St. Joe is still high but is becoming more wadeable each day. Use big attractors with a small nymph (or even two) as a dropper.
With cooler temperatures, the Clark Fork should fish well with dry flies. If the sun stays out, go to small streamers.
Chopaka Lake in Okanogan County has been good for dries on top, particularly blue damsels.
Trout and kokanee
Local trout lakes, including Sprague, and notably Williams, are producing fish for anglers still fishing with bait on the bottom. Badger Lake is still giving up some nice cutthroat despite the growing bass population.
An angler night-fishing Loon Lake for kokanee this week caught a 27-inch tiger trout. Lake Roosevelt anglers are beginning to catch some of the trout released from the net pens this spring. Trollers are taking 10- to 12-inch fish on Wedding Rings, but not as many as one would think.
Coeur d'Alene kokanee fishing is good for fish averaging 10 inches. Priest Lake kokanee are running up to 16 inches, but there are not a lot of them. On Pend Oreille, anglers trolling along the road by Cavanaugh Bay are catching lots of small mackinaws.
Salmon and steelhead
The Brewster sockeye fishery is going well. Anglers dragging red hooks and flashers, pink Hootchies or 3.0 pink Brad's Mini Cut-Plug with a piece of shrimp are taking limits of fish averaging just more than 3 pounds. Few chinook have been landed.
At Wanapum Pool, sockeye fishing is also good and more chinook have been taken recently.
Salmon fishing remains open seven days a week in Marine Area 4, as well as in marine areas 1 (Ilwaco) and 3 (LaPush). Marine Area 2 (Westport) is open for salmon fishing Sundays through Thursdays. The daily catch limit is two salmon for all areas of the ocean fishery. Anglers fishing in marine areas 1, 2 and 4 can retain one chinook as part of their two-salmon daily limit.
Those fishing in marine areas 3 are allowed to retain two chinook per day.
Steelhead anglers had the best success in the Columbia Gorge last week with boat anglers averaging 1.64 steelhead caught per boat and bank anglers averaging 0.27 steelhead caught per angler.
The South Fork Salmon River is closed to fishing for chinook salmon. The Upper Salmon and Clearwater rivers are still open.
Spiny ray
A friend and I fished the lower half mile of the Kettle River this week, landing nine eating-sized walleye and one good-sized smallmouth in 8-14 feet of water along weed lines paralleling the shore. We were jigging. Walleye anglers fishing the eddies upriver from China Bend have done well dragging bottom walkers and nightcrawlers. Blade-baiting has also been popular. Should you catch a tagged Roosevelt walleye, call 509-359-7498.
Banks Lake walleye anglers are doing well early and late. There does not seem to be a consistent producer, so experiment until you find something they like. Banks Lake walleyes have been larger than those in Roosevelt.
Soda Lake in the Columbia Basin continues to produce excellent walleye fishing with fish up to 7 pounds reported. For such a good fishery, Soda sees few anglers.
Deer Lake is overpopulated with smallmouth bass.
Persistent anglers say it is possible to catch dozens each day, but the fish appear to be seriously underweight. Largemouth are also available at Deer as well as nearby Loon Lake.
On Loon, target the northeast weeds, the docks and the lily pads.
Sacheen Lake has been better than either Loon or Deer for largemouth.
Long Lake bass anglers are finding lots of fish, largemouth and smallmouth, by targeting submerged trees and stumps in a number of different locations. Long has some huge crappie, but with the big ones, it is difficult to find more than an isolated fish or two.
Coeur d'Alene pike are hitting along the weed lines in nearly every bay. At least one 20-pounder is taken each week. Smaller pike are abundant in the Chain lakes.
The late June Pend Oreille River Pike Palooza fishing derby from the Idaho state line to the Boundary Dam had less than 50 entries. They caught 81 fish, including a 25-pounder.
Tip of the week
Nice-sized bluegill are hitting at many areas lakes. In Washington, Loon and Silver have been good for hand-sized fish; in Idaho, Fernan, Hayden, Cocolalla and Hauser. Small skirted plastics tipped with worm seem to always catch fish. Look for bluegill beds – washtub-sized circles of clean sand. Ultralight spinning gear or a fly rod will provide the most fun.
Braggin' rights
The first annual CCA Salmon Derby between Rock Island and Rocky Reach Dam on the Columbia was hampered by high flows, but about 40 chinook were weighed in by the 70 derby participants. First place went to Stuart Hurd, with a 31-pound, 4-ounce king. Hurd also won third place for total weight with 88 pounds. Second place for big fish was won by Austin Moser, and third place was taken by Shane Magnuson, who also claimed second place for total weight. Winning the total weight category was Brandon Collins, with 100 pounds even.
Overheard
The bulk of the water coming out of the Okanogan River is about 70 degrees, while the main Columbia is 59 degrees. If that pattern holds, chinook should hang out at the mouth for a while, providing good fishing.
Heads up
• Register now for the Mountain Muskie Chapter 60 Open Muskie Tournament to be held Saturday from 7 a.m. to 5 p.m. on Newman Lake. To register, contact Doug at (509) 263-7235 or email douglasjwood@gmail.com. Seehttp://MountainMuskies.com for rules. Registration is also available Saturday at Newman Lake Resort beginning at 6 a.m. with a mandatory meeting at 6:30.
• Shane Magnuson of Upper Columbia Guide Service will share his techniques for catching summer run salmon, and Ron Oules of Reel-Lentless Guide Service will talk about methods for catching sockeye at a free a salmon fishing seminar at Town Ford in East Wenatchee at 6 p.m. Wednesday.
• The 28th annual Coeur d'Alene Lake Big One Chinook Tournament will run Aug. 2-3. Registration forms: The Elephant Boys in Spokane Valley.
• The annual Budweiser-Lowrance King Salmon Derby in Brewster will run Aug. 3-5. Get details at brewstersalmonderby.com.
• State fishery managers will host a public meeting at 9 a.m. Thursday at the WDFW Region 1 office to discuss proposals to treat three lakes in eastern Washington with rotenone. These are Fish in Spokane County, Little Beaver in Okanogan County and Burke in Grant County.
• With a two-pole endorsement, anglers who fish the area around the mouth of the Okanogan River and up to the first Highway 97 Bridge can use two poles through Aug. 31.
Contact Alan Liere at spokesmanliere@yahoo.com