Posted By Southern Oregon Fishing Report August 10, 2012
With another week of steady heat ahead of us, things are looking much like the past week. Fish are spread throughout the Rogue, while the ocean is producing lights out fishing.
Salmon & Steelhead
Upper Rogue - Summer steelhead fishing is still holding on strong from the hatchery all the way down to Gold Hill. Small plugs continue to outproduce everything else, however spinners, spoons, and flies all are working as well. Mornings and evenings are best with the hot August afternoons generally putting the fish off the bite. For those still seeking salmon, only the stretch below Dodge Bridge is currently open. A few kings are still being caught, mostly by plug fishermen, but eggs are producing as well. As of August 9th 1,747 summer steelhead have entered the collection pond at the hatchery and over 1,000 have been recycled back down to Gold Hill.
Daily catch of summer steelhead from the upper Rogue by guide Charlie BrownGuide Charlie "Steelhead" Brown has been catching multiple summer steelhead almost everyday on the Upper Rogue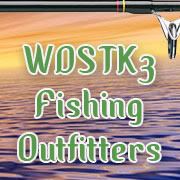 Middle Rogue - Early fall salmon are starting to show up from Gold Hill down to Graves Creek. Catches still remain very light, but there are fresh fish around. With the hot weather all the action has been in the early mornings, with large Kwikfish outproducing roe. Summer steelhead are also being caught, with the Gold Hill area being best for them. As we start to get later in the month things will start to pick up and be more consistent.
Middle Rogue Fall salmon by guide Rob Yuen
A few early middle Rogue fall kings are being caught on Kwikfish like this one by guide Rob Yuen.
Lower Rogue - Despite a few good days, fall salmon fishing remains on the slow side in the Rogue Bay. There seem to be plenty of fish around, however, they just aren't biting. Anglers are spending a lot of time on the water to be there when the bite does pick up for that particular day. The bite window has generally been in the afternoons, and has only lasted a couple of hours. There were some reports of a morning bite this week though. Rogue Bait Rigs with an anchovy and straight spinners are both producing fairly well. Reports of Half-pounders have also started to come in.
Brookings - When conditions allow, anglers are experiencing great fishing. Salmon are being caught everywhere from the Chetco jetties out to 5 miles. The forecast this week is calling for a lot of wind which could effect the catches.
Lower Umpqua - Fall salmon have started to be caught in the tidewater sections of the Umpqua. Fishing has still been on the slow side, but a few decent bites have been reported with a couple of boats catching up to 3 fish. Most of the action has come to those trolling herring or anchovies. Look for things to pick up dramatically over the next couple of weeks.
Coos / Coquille - The fall salmon season has kicked off on both the lower Coquille and in Coos Bay. Fishing has still been slow, but fish are starting to show up and be caught.
Trout
Diamond Lake - The August heat has taken its toll on the lake and the already slow fishing has slowed down even more. A few trout are still being caught though, with a few fish over 20 inches in the mix. Night crawlers fished on the south end or in deeper water have been producing the best.