T
he Spokesman-Review Posted By Alan Liere August 10, 2012
Fly fishing
This is a good time to fly fish the smaller tributaries within the Methow River drainage. Boulder, Falls, and Eightmile creeks are all within easy driving distance from Winthrop and provide good fishing for eastern brook trout and generous limits. Northcentral Washington's small creeks are generally underused and most have an abundance of small trout that hit on bushy dry flies.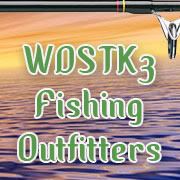 In Idaho, fly fishing remains good on both the Coeur d'Alene and St. Joe rivers.
Trout and kokanee
Fishing has picked up for trout and kokanee on Lake Roosevelt. Hit areas from Swawilla Basin all the way up to the Spokane Arm using a Dodger and an Apex Kokanee Killer.
Some of the high-elevation lakes on U.S. Forest Service property in northeast Washington are stocked with rainbow and cutthroat trout and should be good fishing destinations. In Ferry County, try Davis, Ellen, Empire Swan and Trout lakes. In Stevens County, try Gillette, Heritage, Sherry, Summit, and Thomas lakes. In Pend Oreille County, try Carl's, Cook's, Frater, Halfmoon, Leo, Mystic, Nile, No-Name, Petit, South and North Skookums and Yokum lakes.
Sprague Lake fishing has picked up again. No large trout were reported this week, but a lot of fish between 12-16 inches were caught.
Dworshak Reservoir kokanee fishing has been excellent up around Grandad. The Canyon Creek bite is not as fast, but it's a lot closer. Most fish caught are fat and healthy in the 12- to 13-inch range. There are also smaller fish that should provide good fishing into the fall when the larger fish begin spawning. Most fish are in the 12- to 20-foot range, and the bite is best in the morning.
Loon Lake kokanee both delighted and perplexed night fishermen this week. For some, it was fast limits, but others scrambled to find a couple of fish. Kokanee fishing has been steady on Lake Coeur d'Alene with the best action on the south end of the lake. The kokanee are around 10 inches. Kokanee fishing has also been good at Spirit Lake with plenty in the 9- to 10-inch range.
A report out of the Priest Lake area indicates that mackinaw have been responding enthusiastically to jigging, drop-shotting and trolling.
Salmon and steelhead
A thermal barrier apparently is stalling summer-run steelhead from moving up the Snake and over Lower Granite Dam. Counts over the dam have been dismal in the past 10 days, but many more are poised to come when conditions are right.
The fall steelhead harvest season opened Wednesday on a 2-mile stretch of the lower Clearwater River from its mouth to the U.S. Highway 12 Memorial Bridge near Lewiston. The limits on these waters are two per day and six in possession. The rest of the Clearwater and the Middle Fork, North Fork and South Fork rivers are open for catch-and-release only until Oct. 15. So far, steelhead counts at Lower Granite Dam are low.
The Clearwater River main stem, and the North Fork, Middle Fork and South Fork Clearwater and the Snake River downstream of Hells Canyon Dam will close to chinook salmon fishing Sunday. The Upper Salmon River in the Ellis area and near Stanley close to chinook harvest the same day.
Summer steelhead are abundant in the lower Columbia River and fall chinook opened Wednesday from Buoy 10 upstream to the Oregon/ Washington border above McNary Dam.
Spiny ray
Lake Roosevelt smallmouth are in the shallows early. Rattletraps and swimbaits are effective there, then move deeper with tubes and drop shot rigs once the sun is high.
Banks Lake remains high and water temperatures fluctuated wildly this week, which makes fishing harder. Stick close to the weed lines. Smallmouth are scattered in various depths and are relating to multiple structure types. Smallmouth in the south end of the lake are relating to rocks where they can pick off crawdads. Up north, they seek out deeper weed lines and feed on perch fry. They seem to prefer smaller baits.
Anglers are finding walleye scattered throughout Banks Lake in water as shallow as 5 feet and as deep as 40 feet. Areas to target walleye include the south end near Highway 2, Goose Island, Million Dollar Mile and Barker Flats.
Reports from Idaho Panhandle tackle shops indicate pike fishing on Lake Coeur d'Alene is good, especially in the bays around the lake. Spinnerbaits are the most popular lures. Look for the fish in the deeper weeds. Hayden Lake is good for both largemouth and smallmouth. Use crankbaits.
Bass anglers are taking a lot of smallmouth bass at Dworshak Reservoir by throwing jigs, crankbaits and spinnerbaits along rocky shorelines. Go deep with jigs for larger bass – right on the bottom in water as deep as 60 feet.
The Coeur d'Alene chain lakes (especially Cave, Killarney and Medicine lakes) are hot for panfish – including perch, bluegill and crappie. Most Inland Northwest lakes with multiple species are equally good. Fish close to shore, but expect to catch fish in deeper water. Instead of just a hook and worm, tip a small lure such as a Ratso with worm to keep the fish from swallowing the hook.
Tip of the week
Thousands of chinook salmon continue to move into Puget Sound from the ocean, lighting up fisheries from Sekiu to Kingston. This is the time to go.
Braggin' rights
Clarkston fishing guide Tim Johnson recently made up for an earlier sturgeon trip when his boat was skunked. Fishing in Hells Canyon last Saturday, his clients landed seven sturgeon, including three with a total length of nearly 22 feet.
Overheard
The 2012 season has witnessed a sockeye salmon return of modern-day record proportions. Sockeye counts this year at Bonneville Dam had reached 515,255 by last Thursday when the daily count had dwindled to 65 fish. The run obliterates the previous high annual count of 386,355 in 2010.
Heads up
Opening Saturday: A sockeye fishery on Lake Wenatchee and a chinook fishery on the Wenatchee River for adipose-fin-clipped adult and jack summer chinook salmon.
• The season's second Pikepalooza fishing derby on the Pend Oreille River begins today and runs through Sunday. There is no entry fee and prizes will be awarded in several categories, including smallest fish. Register at check-in stations at Oldtown boat launch, Cusick boat launch, or Metaline Waterfront Park. Details: www.kalispeltribe.com/ northern-pike
• A health advisory has been issued for Fernan Lake in Idaho. Water samples confirmed the presence of blue-green algae that can produce toxins harmful to humans and animals.
• Salmon Creek in Okanogan County from the Okanogan Irrigation District diversion to Conconully Reservoir Dam has been opened to fishing for smallmouth bass, brook trout and adipose-clipped rainbow, with no size restriction and a limit of 10 of each species. Increased competition and predation of these species is making steelhead recovery efforts difficult.
Contact Alan Liere at spokesmanliere@yahoo.com